Local Attractions
There's plenty to do in the area, you could make a day of it and visit a local attraction before or after you come to see us.
---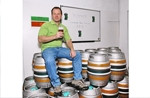 Information
Opening times
| Day | Open | Food served |
| --- | --- | --- |
| Monday | 11am - 11pm | 12noon - 9pm |
| Tuesday | 11am - 11pm | 12noon - 9pm |
| Wednesday | 11am - 11pm | 12noon - 9pm |
| Thursday | 11am - 11pm | 12noon - 9pm |
| Friday | 11am - 11pm | 12noon - 9:30pm |
| Saturday | 11am - 11pm | 12noon - 9:30pm |
| Sunday | 11am - 10:30pm | 12noon - 9pm |
Disabled facilities
We have full disabled access including a disabled loo and disabled parking. Please don't hestitate to ask if you need any assistance.
Dogs
Dogs of the well behaved and on the leash variety are very welcome in our bar and on our patio, but unfortunately not in our restaurant area.
The tables in the bar and on the patio area are on a first come first serve basis, so we are unable to reserve a table for parties with dogs, however you are very welcome to wait in the bar area until a table becomes free.
Children and minors
Whilst primarily an adult's environment, children are welcome in areas away from the bar, although the pub is not very suitable for babies and toddlers in the evenings. We have changing facilities and some high chairs available.
The gardens
If you are eating outside, it is a great help if you could make a note of your table number before ordering at the bar.
By the way, could you please keep tops on and shoes on at all times. This applies to blokes as well.
Prams and pushchairs
In our larger rooms we are able to accommodate prams and pushchairs, although some of the smaller areas are too constricted to allow us to do so. Please don't hesitate to ask if you need somewhere to store yours while you're with us.
Service
First off, life revolves around the bar, so that's where to head for drinks, menus and to find out where you're sitting if you've booked.
If a table isn't reserved you're welcome to sit at it and have a bite to eat or drink. If you can't find a table, ask and we'll try to find one for you.
Food ordering:
Inside - someone will pop over and take your order. Outside - please find a table, note its number and then order at the bar when you're ready.
Bookings
We do take bookings, but we try to make sure that there is room for customers who are not able to book in advance, so if you have not made a reservation, it's not the end of the world. If there are no tables free we run a waiting list from behind the bar.
Please make bookings by calling or using our online bookings calendar link at the top of the page. Unfortunately we are not able to take bookings via email or facebook.
We don't reserve any of our outside tables so if you enjoy a little alfresco dining these are on a first come first served basis.
Sadly due to our operation we are not able to cater for very large parties or groups.
Weddings
We are afraid we are unable to accommodate wedding parties or functions.
Taxis
Surrey Cars: 01483 577677
A3 Cars & Taxi: 01383 300011
Ajays Cars: 01483 203243
Accommodation
Holmbury St Mary Bulmer Farm, Farmhouse & B&B:
01306 731871
Manor House Hotel & Spa: 01483 222624
Holmbury Farm B&B: 01306 621443
Meal Tickets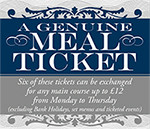 Click here for all you need to know about meal tickets.