AL FRESCO DINING
Our patio area is open for Al Fresco dining.
Unfortunately, we are unable to book any of our patio area and works on a first come, first serve basis.
If you would like to sit in our patio area when you book, please leave a request with your booking and we will endeavour to sit you in our patio if we have an available table when you arrive.
Booking a table online or over the phone with us does not guarantee you a table in our patio area.
Use the 'Eat Out to Help Out' scheme here.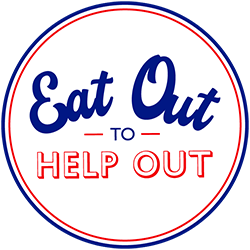 Get a 50% discount on food and non-alcoholic drinks, up to a maximum of £10 discount per diner.
Valid every Monday, Tuesday and Wednesday between the 3rd and 31st August.
Welcome
The White Hart sits in the pretty village of Chipstead in Surrey, with delightful countryside views all around. If you like classic pubs with panelled walls, open fires, rugs and good honest furniture, then you'll find a comfortable home here.
There's a decent clutch of cask ales to tempt you, a carefully chosen wine list with something for everybody, whatever their taste or depth of pocket, and a simple but tasty menu cooked in the pub from fresh ingredients sourced locally wherever possible. Oh, and you'll find a truly warm welcome, just as it should be.
Menus
Our passion lies in finding quality fresh ingredients and preparing, cooking and presenting them in a modern but unpretentious way. Our menus have a spine of classic British dishes complemented by more exotic influences from other parts of the world. We upload them to our web site each day before 12 noon so that you may peruse them at your leisure.
Recommendations

Thanks to our customers recommending us, you'll find us in the:
2020 Good Pub Guide
---
Other recommendations
Good Pub Guide2012, 2013, 2014, 2015, 2016, 2017, 2018, 2019
Love pubs? Like walking? Read on...
AllTrails have kindly created a circular walk from the pub to help you work up that thirst/appetite. You can view the walk details via any of the routes below. (varying levels of tech savyness required -Ed)
The White Hart and Shabden Park an AllTrails walk
Latest from Facebook
Posted yesterday at 11:28am
We are fully booked this evening and have some availability this afternoon, if you decide to come down without a booking we will try our best to accommodate you, but no guarantees. Get in early to get booked for up next week for the Eat out to Help out offer as its filling up very quickly already.