More than one pub was found.
Please choose from the list below.
Click on the map above or enter a town or postcode below to find your nearest pubs. Or if you know where you would like to see, just pop in the pub name:
It's lovely to have lots of our pubs open again...
We're so happy to be able to say we have lots of our pubs open again, but unfortunately not quite all of them (just yet).
With the various restrictions in place in different parts of England and Wales, please visit your chosen pub website for their latest information.
Thank you for all the support, and we look forward to seeing you soon.
We are a group of pub restaurants founded in the North West of England and North Wales, however, through popular demand and with the assistance of an A to Z we have now ventured further afield and have a substantial branch of the family in the South.
Each pub has its own style and flavour, though you'll find good cask beers, freshly cooked food, decent and affordable wine and a good shelf of malt whiskies throughout. We like to think we run informal places for people who like to meet, eat, drink and talk in a relaxed friendly atmosphere.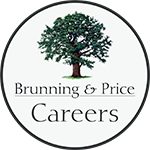 Brunning and Price Careers Facebook page
You'll find our latest key vacancies and get a little insight into what it's like to work with us...
Click here for more details
Latest from Instagram
'It's the season for pigs in blankets! #itsbeginningtolookalotlikechristmas #pigsinblankets #brunningandprice
News from Facebook
Posted yesterday at 11:39am
From 6pm this evening the rules change in Wales, meaning we will now close at 6pm and sadly as of tomorrow, will be unable to serve alcohol. Here's the Cornmill, Llangollen practicing their new mantra! .... but surely, the delicious food (although we do say so ourselves) will make up for the lack of an accompanying tipple!
2 people like this
---