Use the 'Eat Out to Help Out' scheme here.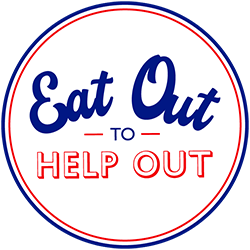 Get a 50% discount on food and non-alcoholic drinks, up to a maximum of £10 discount per diner.
Valid every Monday, Tuesday and Wednesday between the 3rd and 31st August.
Welcome
We could be called a truly classic English village pub, with lovely open fires, bookcases scattered all around, lots of old oak and a really pleasant garden. It's the quintessential 'Britishness' of the pub and indeed the village that has led to it being selected to appear in ITV drama Home Fires, which takes over the whole village to film here.
We have a beautiful bar within the centre of the pub which houses an extensive array of whiskies amongst other delights. We offer a range of local ales and a well-balanced, great quality list of wines designed to complement our food menus which are designed daily by our team of creative chefs who all have a passion for great cooking using fresh, seasonal and local ingredients.
Menus
Our passion lies in finding quality fresh ingredients and preparing, cooking and presenting them in a modern but unpretentious way. Our menus have a spine of classic British dishes complemented by more exotic influences from other parts of the world. We upload them to our web site each day before 12 noon so that you may peruse them at your leisure.
Recommendations

Thanks to our customers recommending us, you'll find us in the:
2020 Good Pub Guide
---
Other recommendations
Good Pub Guide1999, 2000, 2001, 2002, 2003, 2004, 2005, 2006, 2007, 2008, 2009, 2010, 2011, 2012, 2013, 2014, 2015, 2016, 2017, 2018, 2019
Good Pub Guide County Dining Pub of the Year2000, 2004, 2009, 2013
AA Pub Guide2002, 2003, 2004, 2008, 2009, 2010, 2012, 2013, 2015, 2016
Good Beer Guide2003, 2004, 2005
Michelin Guide: Pubs2004, 2005, 2006, 2008, 2009, 2010
Doggie Pubs2015, 2016
Egon Ronay2006
Which? Pub Guide2004
Which? Guide to Country Pubs2001, 2002, 2003
Alistair Sawday2008, 2009, 2015, 2016
Harden's Guides Top UK Restaurants2014, 2015, 2016
Out in Cheshire (CAMRA) Rural Pub of the Year2003, 2004, 2005
Winalot Dog Friendly Approved Awards - Where to eat North West2004
Cheshire Life - Pub of the Year1997
Love pubs? Like walking? Read on...
AllTrails have kindly created a circular walk from the pub to help you work up that thirst/appetite. You can view the walk details via any of the routes below. (varying levels of tech savyness required -Ed)
The Dysart Arms and Bunbury an AllTrails walk
Latest from Facebook
Posted today at 2:38pm
Sam wisely said "Let's all Eat Out to Help Out" 👍🏼 Book online or give us a call on 01829 260183. For outside tables just pop down ☀️ #cheshirepub #cheshire #brunningandprice #bandplife #beergarden #eatlocal #eatouttohelpout #food #foodie #foodsofinstagram