Use the 'Eat Out to Help Out' scheme here.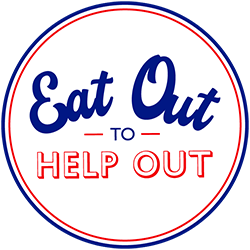 Get a 50% discount on food and non-alcoholic drinks, up to a maximum of £10 discount per diner.
Valid every Monday, Tuesday and Wednesday between the 3rd and 31st August.
Welcome
The Hare sits in the village of Langton Green, a pleasing, suburb of Tunbridge Wells on the edge of the rolling, narrow-laned Kent countryside. Here you'll find the traditional English villages featured in those pre-war black and white films made at Pinewood, and the classic English pubs that we dream of.
We believe that the Hare fits perfectly under that 'classic English pub' title.
Menus
Our passion lies in finding quality fresh ingredients and preparing, cooking and presenting them in a modern but unpretentious way. Our menus have a spine of classic British dishes complemented by more exotic influences from other parts of the world. We upload them to our web site each day before 12 noon so that you may peruse them at your leisure.
Recommendations

Thanks to our customers recommending us, you'll find us in the:
2020 Good Pub Guide
---
Other recommendations
Good Pub Guide1996, 1997, 1998, 1999, 2000, 2001, 2002, 2003, 2004, 2005, 2006, 2007, 2008, 2009, 2010, 2011, 2012, 2013, 2014, 2015, 2016, 2017, 2018, 2019
Good Pub Guide County Dining Pub of the Year1997
AA Pub Guide1998, 2002, 2003, 2004, 2008, 2009, 2010, 2012
Good Beer Guide1998
Michelin Guide: Pubs1999, 2000, 2001, 2002, 2004
Which? Pub Guide2001, 2004
Which? Guide to Country Pubs2001
Alistair Sawday2005, 2009
Harden's Guides Top UK Restaurants2003, 2004
Good Weekend Guide1998
Time Out Guide1999
Love pubs? Like walking? Read on...
AllTrails have kindly created a circular walk from the pub to help you work up that thirst/appetite. You can view the walk details via any of the routes below. (varying levels of tech savyness required -Ed)
The Hare and Groombridge an AllTrails walk
Latest from Facebook
Posted today at 2:01pm
We are delighted to announce that we will be reopening from 12 noon on Sunday 19th July. We've obviously had to make a few changes and we would welcome your help with some of them, so please visit our website here to take a look: www.brunningandprice.co.uk/har... Whilst we find our feet we are encouraging bookings only inside the pub. Looking forward to seeing you! read more on our page