More than one pub was found.
Please choose from the list below.
Click on the map above or enter a town or postcode below to find your nearest pubs. Or if you know where you would like to see, just pop in the pub name:
Temporary closure and Click & Collect
Sadly all of our pubs are closed at this time, but many offer a 'Click & Collect' menu, so please visit your local pubs website for more information.
We hope to be with you all again soon and are taking bookings for from Wednesday 2nd December onwards.
We are a group of pub restaurants founded in the North West of England and North Wales, however, through popular demand and with the assistance of an A to Z we have now ventured further afield and have a substantial branch of the family in the South.
Each pub has its own style and flavour, though you'll find good cask beers, freshly cooked food, decent and affordable wine and a good shelf of malt whiskies throughout. We like to think we run informal places for people who like to meet, eat, drink and talk in a relaxed friendly atmosphere.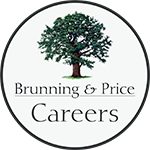 Brunning and Price Careers Facebook page
You'll find our latest key vacancies and get a little insight into what it's like to work with us...
Click here for more details
News from Facebook
Posted on 27th November
Well we were hoping that we could open all of our pubs across England from next week, but sadly that's not to be. If you keep an eye on your local pubs website we will make sure it is always up to date with all the latest news and guidance about opening dates and local restrictions. But chins up! ... we can open our doors in many of our pubs and we are REALLY looking forward to welcoming... read more on our page