Company Archive
---
Plough and Harrow Opens
September 2019
We are delighted that after months of hard work, the Plough and Harrow is finally open.
The Plough and Harrow sits in the shadows of the Malvern Hills, a view that is best appreciated from the balcony of our beautiful first floor Private Dining room which seats up to 22 people. Downstairs the bar is positioned at the heart of all things, crammed with local ales and tipples to temp any taste buds. There are rooms to squirrel away in, in the old pub building, steeped in history or light bright seating areas in the new garden room or library. Stone terraces flank the pub both to the front and side of the building to follow the sun around throughout the day and our lovely lawn stretches out to make the most of the stunning location just outside the village centre of Guarlford.
It's an absolutely beauty and we couldn't be prouder.
Good luck to Josh and all of the team.
---
Annual Company 'Do'
September 2019
There is nothing nicer than a bit of a get together, which is why our annual company do is simply the best day of the year. It's the only time that all of our Managers, Deputy Managers and Head Chefs are in the same place at the same time and is the perfect opportunity to say thank you, celebrate our successes, do a bit of forward planning and best of all, share a drink or two and throw some, quite frankly awesome shapes on the dance floor.
---
The Roe Deer, Wordsley joins the family
June 2019
We are thrilled to welcome the Roe Deer into the B&P family.
The Roe Deer was a family home called Lawnswood House, built for the Foley family between 1813 and 1816 during the reign of King George III, in the Regency style. This means that it has wonderful high ceilings and huge casement windows that flood the rooms with natural light from the ancient gardens that surround it. We have been busy restoring and converting it sinse before Christmas and we are thrilled with the results.
The building lends itself beautifully as a pub and now has a large bar at the heart of the building. Outside there is a stone terrace to the front, which enjoys sunsets framed by the grand old trees, and views out across the lawn and the fields beyond. Upstairs, enjoying the same views you will find a private dining room which will comfortably seat 14.
We wish Jon and the team there every success for the future.
---
Ally's Annual B&P 'Adventure'
June 2019
Ally from the Fox Revived organised his usual annual jaunt with some fellow B&P physical exercise and countryside enthusiasts!
This years 3 day trip took in the sights of Snowdonia. Day 1 was a bike scramble, day 2 was in Anglesey, enjoying something called 'coasteering' which is basically sideways mountaineering - climbing sideways along cliffsides following the coastline with abseiling and zip wiring thrown in for good measure.
The last day was spent cycling the Marin Trail with spectacular views before heading back to the hostel to celebrate with some beers.
Next years 'adventure' plans are already taking shape, with requests of 'more water and perhaps a kayak' involved!
---
Welcome to the Crabmill, Preston Bagot
May 2019
We are thrilled to welcome the Crabmill which lies in a small village called Preston Bagot, just outside of Henley-in-Arden in Warwickshire, to the B&P family.
After an extensive refurbishment which gave the pub a new front garden and Private Dining Room, as well as restoration and redecoration throughout, we think the pub is looking at it's finest and can't wait to hear what our customer think.
Good luck to Andy and all the team there, it's fantastic to have you on board.
---
Team visit to Cornwall
April 2019
Tamsyn and her team of Managers went to Cornwall for a couple of days to visit the home of 'Brunning and Price Traditional'.
They had a pasty lunch at St Austell Brewery, followed by a tour. Then a beer and food matching session with Julie one of the beer sommeliers.
They stayed in the little fishing harbour of Charlestown (where the boaty scenes of Poldark are filmed). Tamsyn had organised a treasure hunt to get the know the area better (and because we are all ridiculously competitive). They had 3 teams running around for an hour finding answers to her very posing questions. They then had a lovely dinner hosted by St Austell Brewery.
Beth from the Pheasant arranged for everyone to visit Tarquins Gin Distillery where they were hosted by Nick their Ops Director. They don't usually do public tours so this was a special treat for B&P. They saw the big shed where they produce all their gins and saw the 2 girls who still hand-write all their labels. Beth and Becca were allowed to hand dip 2 bottles in their signature wax which the whole team then signed.
They then dropped into Wadebridge for a quick pasty lunch (known locally as a "teddy oggy") and bought some local wines and Cornish fudge before heading back up the road home.
The perfect way for the managers to regroup after a busy Easter.
---
Sal's Annual Bowling Tournament
March 2019
Sal's area took to the lanes again this year for another closely fought inter-patch bowling tournament. The Old Orchard's team 'the bowling stones' took home the 1st place trophy, followed by 'Time to spare' the Cricketer's team, with the Duke of York's team, last years champions, 'the Twinkle Toes' coming in third.
Albert from the Duke of York took the trophy for best overall player with a massive score of 156.
Time to rest their bowling arms for another year (or, knowing how competitive this is all getting – time to form a year long training strategy in order to take first place next year).
---
Welcome to the Crabmill, Preston Bagot
March 2019
Preston Bagot lies about 1½ miles east of Henley-in-Arden, in the Stratford district of Warwickshire. It's home to a little over 100 people, All Saints church, a Manor House and a beautiful 17th century pub - the Crabmill. We are delighted that it will soon join the Brunning and Price family. It closed over the weekend in order to be lovingly restored and redecorated, ready to open once again on Saturday 4th May.
It's is a real gem to look at, with roots spanning back more than three centuries, it still bears the marks of history with tiny leaded windows, weathered half-timbered exterior, crooked beams and flagstone floors. Once a cider mill, it seems destiny that it moved from making such nectar to serving it to happy customers, and long may it continue to offer such hospitality with B&P.
---
The Highdown Opens
February 2019
We are thrilled that the Highdown has become the newest member of the Brunning and Price family.
The Highdown was built in 1820 as the family home of the Lyons family in a beautiful spot that enjoys views towards the downs on one side and the sea to the other. In 1909 the house and surrounding grounds were bought by Major Stern and his wife. From that date until Sir Frederick's death in 1967 they created and developed the present gardens, in and around a former chalk pit. In 1970 the gardens were kindly passed to Worthing Borough Council who since the mid 1970s have restored and managed them to the Sterns' original design including the propagation of their original stock. This garden, now called Highdown Gardens sits next to our pub and is a wonderful placed to while away a few hours (building up an appetite).
A well-stocked bar now sits in the heart of the building, offering an array of local ales and a back bar crammed with lines of gins and malts. Some of our rooms are wooden panelled, others have large casement windows to allow the light to flood in and some are small and intimate - so somewhere perfect for any occasion. We have a Private Dining room upstairs for small gatherings of around 14 and 13 beautifully furnished bedrooms for those who would like to join us overnight. Outside there is a terrace to drink and dine in the sunshine and a much loved Tea Room for those wishing for a spot of tea, coffee or a light snack to accompany them on their walk around the gardens, or for somewhere to rest a while after they have visited them.
We wish Tom and the team there every success and look forward to bringing Brunning and Price hospitality to the south coast.
---
Lawnswood House to become 'the Roe Deer' pub
January 2019
We have fallen in love with Lawnswood House and are all set to turn it into the newest member of our family of pubs.
Lying off the main Kidderminster to Wolverhampton A449 road, just north of Stourton, the Lawsnwood house estate occupies a beautiful position within an island of unspoilt countryside. The house stands proudly in an elevated position with a pleasing outlook over its parkland and beyond.
Lawnswood House was commissioned by the famous Foley family and built between 1813 and 1816 during the reign of King George III, in the Regency style, meaning we have stunning corniced high ceilings and rooms flooded with light from the tall casement windows.
The house is indeed grand, but in much need of repair and restoration, the last of which seemed to have taken place long ago in 1924. It lends itself wonderfully to being a pub, so that many can share it.
When we reopen in the Spring, (around late May if all goes to plan), we will call the pub 'the Roe Deer' in honour of the family of Roe deer that we often see grazing within the walled garden. We hope that they continue to visit the pub when we reopen.
---
Plough and Harrow starts on site
January 2019
Brunning and Price are thrilled to have started work on the Plough and Harrow, located in the shadow of the beautiful Malvern hills in the village of Guarlford.
We are always on the lookout for opportunities and like nothing more than reopening closed pubs and restoring them to the heart of the local community. As such we offer an incentive on the Brunning and Price website (www.brunningandprice.co.uk) for anyone to recommend a building, pub or otherwise, that looks to have great potential for us. If the suggestion leads to the end result of a new B&P pub, then we pay the wise finder a £5000 'finders fee' – this is how we came to find out about this great opportunity in Guarlford.
The pub has been closed for quite some time now and the locals were horrified to understand that the land could be used to develop into houses and so we were contacted by someone who felt that we could save it and restore it to its former glory. Thankfully, all has gone to plan, and we look forward to reopening the Plough and Harrow in early Summer this year.
Preliminary work on the site started just before Christmas, but now a full team are on site sensitively marrying up the old with the new before reopening in June dependant on how kind the winter months are.
---
2018 Annual Christmas Office Bake Off
December 2018
December 21st saw the return of the Chester Office Annual Bake Off. 10 enthusiastic bakers brought offerings for both the savoury and sweet categories. Mary 'Pru Leith' Willcock and Mike 'Hollywood' Carney (we think that name should stick) carefully tasted each dish before handing to the audience for their own critiquing. A close run competition in both categories…
In the savoury category, Kieron's 'Crancherry Fakewells' (Bacon, red onion, turkey, and brie with a cranberry on top) getting a mention for being a great 'idea' but were pipped to the title by Jake's Pork, Stilton and Cranberry sausage roll.
The Sweet category was won by Suzy's excellent Chocolate Rum Cake, though there were some excellent runners-up including Natalie 'Tizz' Shaw's Chocolate and Pecan Tart which some wondered if should have been disqualified after photographic evidence of outside assistance came to light shortly before judging (in the form of her Chef brother being seen in the vicinity with a whisk).
---
We welcome the Bull at Broughton
December 2018
The Bull, which sits within the stunning Broughton Estate, recently came under the wing of Brunning and Price.
The pub closed its doors a little while ago to be treated to a complete refurbishment. As always it's incredibly important to us to retain the character of this lovely building, making sure that the bar sits at the heart of all things with an array of local cask ales, shelves full of gins, whiskies, rums and 50 something wines to welcome everyone as they walk through the doors.
A new private dining room has been created upstairs which lends itself beautifully to a private family meal or business lunch for up to 14 people. Downstairs, we have cosyied up the room behind the bar, which now comfortably seats up to 20 for a private gathering or with a bit of furniture re-jigging, is perfectly sized for smaller parties of up to 30 or so.
Steven Larkin is the new landlord and is joined by his wife Anna. We wish them and their team every success and happiness for the future.
---
The Parrot, Forest Green opens
December 2018
The Parrot is located in the beautiful village of Forest Green, set deep in the Surrey Hills. It's easily found once you have joined the Ockley Rd B2127. The pub sits proudly on the Green overlooking the cricket ground, the perfect position to fulfil its natural right as the heart of the local community.
We are thrilled to welcome this beautiful pub into the fold and wish Duncan and the team there the best of luck for the future, we are sure they will be very happy there (and will make lots of customers very happy along the way).
---
Welcome to the White Horse
November 2018
With so many stories of pubs closing on the high street it has been an absolute joy to return the White Horse in Beaconsfield to all it's former glory. It's back in the bosom of the local community!
Good luck to Rachael and all of the team there.
---
2018 Company Do
September 2018
Our favourite year in the B&P calendar is the annual 'Do'. It's our chance to fill a room (or tent) with all of our Managers, Deputy Managers and Head Chefs and take the opportunity to take stock of what we've been up to over the last twelve months, to say thank you and to celebrate our successes.
It's also a chance to unwind after the madness of Summer and to have a thoroughly lovely time – on this occasion by tapping into our natural competitive spirit with an 'inter area sports day' (congratulations to 'Sal's Salamanders') followed by much merriment and plenty of dodgy dancing.
---
The Arrow Mill, Our first B&P Pub with Rooms
September 2018
We are thrilled to open our very first Brunning and Price pub with bedrooms. The Arrow Mill launches near Alcester today and offers not only a function room that seats up to 50 but 9 beautiful, comfortable, B&P bedrooms - a first for us!
Now our customers can drink and dine the night away, safe in the knowledge that at the end of the evening they only have a flight of stairs to master. In the morning a power shower and a full English breakfast awaits them – the perfect way to end and start a day.
---
Hello to the Highwayman!
September 2018
We are thrilled to open the doors on the new look Highwayman in Kirkby Lonsdale. The pub looks wonderful (although we do say so ourselves!) and Sean and the team up there have done an amazing job creating a warm welcoming environment that we are sure will become the heart of the local community.
---
The Southern Inter-Pub Footy Tournament
September 2018
The Duke of York 'The Dukes of Barnet FC' were crowned champions in last night's football tournament.
The Prae, Duke, Mute Swan, and Old Orchard qualified into the knock out stages where the Duke beat the Prae Wood Arms 6-5 on penalties to reach the final, along with the Old Orchard after beating the Mute Swan 2-1.
The Duke took the title with a nail-biting 4-3 finish, Old Orchard runners up and the Mute Swan took home the 3rd place trophy, beating The Prae 3-1.
Lots of creaking hips, aches and pains this morning but it was great to have a kick about!
---
Year Review 2016/17
September 2018
This filmatic frenzy of joy shows a little of what we have been up to this year
---
Brunning and Price purchase Food & Fuel
August 2018
We are hugely excited to announce that this week Food & Fuel have agreed to sell the entire share capital of the business to Brunning & Price.
Food & Fuel, is a successful 11-strong estate of prime London gastro pubs, started in 2006 by Karen Jones, Jo Cumming and Peter Myers. The pubs span Richmond, Chiswick, Pimlico, Marylebone and Kensington and include the iconic Sporting Page in Chelsea.
We are thrilled to have been successful in our bid. Mary, Brunning and Price MD said today, "We are delighted to be coming together with Food & Fuel, whose excellent people and unique pubs have impressed us on every visit. It gives us an immediate strong presence in London and we are excited about the opportunities it provides.
These are a fabulous group of pubs in their own right and will sit well alongside the Brunning and Price business. Whilst both businesses share common values and a similar philosophy about what makes a great pub, we want to continue to nurture and develop all the things that have already made Food and Fuel successful in the unique London market."
---
Two day adventure event in Snowdonia
June 2018
Ally from the Fox Revived led 7 intrepid B&P explorers through 2 days adventuring in Snowdonia.
Day 1 consisted of 15 hours in the hills... Made up of an 8.5 hour walk, broken up by a 4 hour bike, and capped off by an abseil down a waterfall. The team were given mental challenges along the way to keep their minds working as hard as their legs did. The drinks at the end of the day had never tasted so good.
Day 2 was a little gentler but still plenty, with a walk (and a bit of a scramble) up the beautiful Moel Siabod. At 872m it's the highest peak in the Moelwynion mountain range.
Plans are already talking shape for next years adventure, any B&P'ers are invited, the more the merrier.
---
Brunning and Price Welcome Ribble Valley Inns
May 2018
We are pleased to announce that we have today purchased Ribble Valley Inns, a collection of restaurant and real ale pubs in the north of England; The Highwayman, Kirkby Lonsdale, The Clog & Billycock, Blackburn, The Three Fishes, Mitton and The Bull at Broughton. The fifth Ribble Valley Inns pub, the Nag's Head, Tarporley, did not form part of the deal and is to be sold separately.
"We have admired Ribble Valley Inns for many years and believe that these well-known and long-established businesses are perfectly positioned geographically for us to enhance our presence in the north of England" said Mary Willcock, MD of Brunning and Price.
"As always, we feel that a pub should retain its own personal character and look forward to working with the teams locally to ensure they prosper and thrive in the coming months and years."
---
The Morris Dancer opens!
May 2018
The doors finally opened to the public on Thursday 3rd May and we are thrilled with the response that we have received already. It has been heart-warming to hear the reaction of the locals who have welcomed us with open arms to their community.
Ryan is at the helm, along with a whole host of others, new to the company from the local village or those from sister pubs to the Morris Dancer who have come across to form the new team.
Tony Collins heads up the kitchen team and has worked as the Combermere Arms Head Chef for many years, so is well versed in creating fresh daily menus. ''We have really enjoying creating our opening menu, finding some great new local suppliers and forming relationships. There are a few surprises in there – Artic Roll isn't something you might imagine to see in our pudding range, but when it's home made with white chocolate ice cream and a strawberry salad on the side, it's certainly a bit different from the ones we remember from our youth'.
Ryan is looking forward to the Folk Festival which is just around the corner. "It will be a great way of meeting new people within the village, we are thrilled to be open in time. I also love the idea of running beer festivals and evenings where customers can meet local brewers to find out more about their beers and taste what's on offer locally. We are fortunate to have a wealth of brewers in the area to choose from – but let's get our feet properly under the table first!"
---
The National Pub & Bar Awards 2018
April 2018
We are absolutely thrilled to have been awarded the 'Best Pub in the County' National Pub & Bar award for two of our beautiful pubs; The Physicain, Edgbaston and Gomshall Mill, Guildford. With so many pubs in the running for such an award we are delighted to have been recognised and are very proud of our pubs and the crew within them who make them worthy of such an award.
---
Assistant Manager Development Days
April 2018
We've just held our first Assistant Manager Development Day in which our brightest Assistant Managers found out more about progression opportunities with us and took part in group exercises to identify their preferred learning style. We are already very proud of our Deputy Managers of the future.
---
'Lifers' - Graham Arathoon, Manager, Glasfryn, Mold
March 2018
Graham Arathoon (and his wonderful wife Debbie), Manager the Glasfryn Mold very much class as 'lifers', serving over 24 years!
"I started off way back at the Grosvenor Arms in 1994 as a sous chef. Six months later I was asked to take over as Head Chef at the Pant Yr Ochain and worked for quite a few managers there, all brilliant characters.
Eight years (I'm sure to some it seemed like much longer) just flew by. I had the honour of building a great team, who are mostly still with B&P and thriving.
Later I was offered the chance to manage Glasfryn where I have been for the last eight years and the story continues.
I feel I would like to continue passing on the B&P way and helping the company move forward, whilst keeping one eye on the past or I may have one more pub in me!"
---
Snowy Days
March 2018
The 'Beast from the East' has caused mayhem and chaos across the land. Thankfully our pubs have been able to serve as a haven of warmth and friendliness to those cut off by the extreme weather. The lure of a hearty meal and a roaring pub fire has never been more alluring!
---
Brunning and Price receive the keys to two new opportunities
February 2018
It's been a busy week for Brunning and Price, with two opportunities coming to fruition in the same week.
We are thrilled to have received the keys for the Arrow Mill, a hotel restaurant just outside of the roman market town of Alcester, close to Stratford upon Avon, nestled in a secluded riverside setting opposite the entrance to Ragley Hall.
The Arrow Mill stands in over 50 acres on the banks of the River Arrow and is a former flour mill that dates back to the early 1800's and sits on a site that reportedly had a mill on it recorded in the Doomsday book. It ceased to mill in 1962 and has been owned, for the last 30 years, by Chef Simon Woodhams and his family. We are very grateful that he has seen us as worthy successors to continue to care for the precious building.
The second project is in Beaconsfield and is a little more modern. We believe this will make a super B&P pub and always relish the opportunity to restore former pubs back to their glory days. When we reopen in the Summer we aim to return the pub to it's former name of the White Horse, as this seems to evoke fond memories from those that we have spoken to.
Both projects are very much within the planning stage, but if all goes well we hope to reopen them sometime this summer, offering 40 plus local jobs in both areas.
---
'Lifers' - Graham Bridgewater, Financial Director
January 2018
B&P is extraordinary in a few ways, but one thing that stands out against other pub groups is how many 'lifers' we have working with us. This month we wanted to tell you a little more about Graham Bridgewater who has been our Financial Director for 20 years.
'Jerry (Brunning) and Graham (Price) placed an advert in a finance magazine (the web had hardly been born then) announcing 'Accountant and Pub Goer Wanted' so having checked out the company and the pubs and liking what I saw, ate and drank, I just had to apply. Luckily for me, after an interview above the Grosvenor Inn (where the offices were then) and lunch, they took me on - and here I am 52 pubs later.
I've always been on the numbers side of things although it's a bit different to when I started in 1998 when we had 8 pubs and now we are at 60 and counting. I love working with a great bunch of people in the office and in the pubs, I'm very proud to tell people who I work for and it's great hearing how much people love what B&P do. I obviously enjoy going to the pub launches, the social BBQ's, Xmas lunches, ad hoc dos and golf days, they beat the number crunching of course, as accounts is definitely not the glamourous part of the pub business, but someone has to do it and making sure, with the team, that everything is in place for the pubs to do what they do, is an important role that we take pride in.
---
Head Office Christmas Bake Off
December 2017
Our Head office is full of foodies, many of whom fancy themselves as critics and many others as Chester's answer to Mary Berry - so when the gauntlet of 'let's do our own Bake Off' was thrown down there were lots of volunteers for entrants and judges.
After a glutenous morning, we are thrilled to announce the winners of this year's Office Christmas Bake off (so there's no need to watch Pru and Paul's version on the telly)...
Keiron takes the 'sweet trophy' (there is no trophy) for his chocolate log, which we all felt resembled a Cactus or a Gruffalo hand, pipping Suzy and Jan to the post, who became runners up with their mince pies and snowman cake. The judges couldn't split the winners in the Savoury category - avoiding mayhem by awarding joint first place to Paul for his layered turkey pie and Tom for his chorizo rolls.
---
Brunning and Price moves to Tarporley
November 2017
We are thrilled to share the news that we have just taken on the Lord Binning pub in Tarporley.
With a sensitive transformation we think it will make a super B&P pub as it is nestled in close proximity to Delamere Forest Park and sits within B&P Cheshire Heartland (close by to what will be its sister pub, the Dysart in Bunbury). Luckily we got wind that it was becoming available early on, and since then many Brunning and Price customers have been in touch to let us know it's on the market, which reassures us that our first instincts were indeed correct.
At the moment it's still very much within the planning stage, but once reopened in early summer 2018, we aim to return the pub to it's former name of the Morris Dancer, as this seems to evoke fond memories from those that we have spoken to. We are thrilled to finally have the keys so that we can get going!
---
The Haycutter joins the family
October 2017
After almost 2 years in the making, we are pleased that, at long last, we can welcome the Haycutter into the fold.
Situated in the beautiful surroundings of Broadham Green, nestling between Oxted, Hurst Green and Tandridge in Surrey, the Haycutter was built as a pub in 1851. We have changed it quite a bit since, adding in a large bar at the heart of the building and creating a light and airy garden room overlooking the new stone terrace. We have found some lovely features to bring back to life along the way and some even more lovely local people, all willing us on, sharing their stories of old and supporting us in our quest to breath new life into their local pub.
We wish Chris and the team every happiness in their new home.
---
Annual Food Competition 2017
October 2017
After a long day of tasting, debating, cogitating and tasting some more alongside perhaps a tipple of this and that, we are thrilled to announce the winners of the 2017 Annual Food Development Awards:
And the winners are...
Starter.
'Tomato jelly with crab salad and avocado mousse', from Ed and Dinushka, from the Mute Swan, Hampton Court.
Light Bite.
'Ham hock and caramelised onion pie, with Blacksticks Blue cheese mousse and piccalilli dressed salad', from Anna and Adam from Little Manor, Thelwall Village.
Main Course.
'Braised ox cheek with caramelised shallot puree and ox tail fondant, roasted baby turnips', from Becky and Alix from the Combermere Arms, Burleydam.
Dessert.
'Honey parfait with blackberries, honeycomb and yoghurt sorbet',, from Lauren and Joseph from Sutton Hall, Macclesfield.
Congratulations to all the winners, you can look forward to a fabulous treat at the Marcus Wareing Restaurant in Knightsbridge, to follow a little later in the month.
Well done to everyone that entered a dish this year, the standard was fantastically high and as ever we were thrilled with the creativity and enthusiasm of all the Junior Chefs and their Front of House Partners.
---
The Prae Wood Arms wins the Trevelyn Award for Architecture and Restoration
October 2017
Each year, St Albans Civic Society celebrates imaginative development and design initiatives which have been completed within the city in the previous year.
In the first half of the year, members of the Society and the general public are invited to submit suggestions for consideration by the Awards Panel.
We are delighted that this year, the St Albans Trevelyn Award for Architecture and Restoration was awarded to us for the Prae Wood Arms.
The building was originally built as a 'little cottage' called 'The Pre' for the sum of £4,139 for the 81-year-old Lady Frances Cooke Grimston, who had grown 'tired and lonely' in her life in Mayfair. Lady Frances lived there until she died aged 91 in 1848 and is buried in nearby St Michaels church. The building then fell to Henry Toulmin, four-times the Mayor of St Albans and a wealthy ship owner, to modernise from 1881. He added four bedrooms and landscaped the grounds we see today which lead down to the River Ver.
When we came across it, it had been a Crown Carvery for many years and was in much need of some love and attention. We uncovered stunning hidden gems as we peeled back the years of paint and paper and lifted the carpets. Beautiful parquet floors emerged and flint stone walls, all of which we lovingly restored for all to take pleasure from. The huge casement windows let in such a beautiful light that its now a pleasure to dine, overlooking the sprawling lawn from either inside or under the protection of the lead canopy on the new stone terrace.
Becky and the team attended the awards ceremony and were thrilled to receive the honour.
---
Old Harkers Arms featured in the Good Pub Guide
September 2017
This title isn't really that unusual as we are thankful that so many of our pubs make the Good Pub Guide each year. But what makes this super special is that Old Harkers Arms in Chester have featured in the guide in every edition for the last 20 years. Which is quite some going!
Thank you to all who have nominated us over the years.
---
Company Do 2017
September 2017
Every year we invite all of Managers, Head Chefs, Deputy Managers and Head office team along to a (forcibly volunteered) venue for a bit of a Do. Thank you Pant-yr-Ochain for hosting us this year.
It's a chance to share some news, say thank you and generally catch up with everyone over something nice to eat and obviously a drink of two. This year it was also a chance to find out at long last who was the champion of champions at tug of war (it turned out the North, but only after best of 3) and to check out some pretty awesome dance moves.
---
Gorgeous new pub, Cheltenham
September 2017
We are delighted to have taken on The Former Courthouse in Cheltenham, which until earlier this year, was run as a Jamies Italian restaurant.
We are very excited and fortunate to have landed such an historic building in this beautiful part of the world. We plan to sensitively transform the building, which was designed in a 'Italianate style' by the then surveyor of County Courts, Thomas Charles Sorby and built between 1869 and 1871.
We think it's stunning and love that it still retains its courtroom, largely unaltered over the years. Once reopen in early 2018 it will be called 'the Old Courthouse' - we can't wait to get started and see what we uncover along the way.
---
Progress at the Haycutter, Oxted
September 2017
We are thrilled with the progress we are making at the Haycutter, Oxted. The latest addition to the Brunning and Price family is due to open at the end of October and it's 'all go' on site at the moment.
---
'Lifers' - Sal, Ops Manager in the South
August 2017
At B&P we are very fortunate to have lots of 'lifers' - This is Sal, he's now an Ops manager in the South for us, but joined us 20 years ago as manager for the Mute Swan, Hampton Court Palace.
When asked what first attracted him to B&P he replied: "Doing the right thing, first time. Whether it was my first plate of food and glass of wine when training at the Combermere Arms all those years ago, the detail in the buildings or the fantastic group of people involved, I knew that B&P was where I wanted to be. Simple food executed at its best, real and genuine people and lots and lots of booze - what's not attractive about that!"
I had a successful career in Frankie and Benny's over a 10-year span before joining B&P. When TRG acquired Blubeckers - I saw an opportunity to join the pub restaurants (having been a regular at the Mill House for some time) ...the rest as they say is history! It's nice to work somewhere that gives you the opportunity to move around, it means you are presented with lots of opportunities.
The best bit of my job is watching people grow. I am surrounded by people at various stages in their careers and in the past, have enjoyed watching successful people succeed through the pubs, but now I have the same ability to do it across a patch and make a much bigger difference. I'm a coacher and love mentoring and encouraging people to better themselves, just when you think you've hit a glass ceiling I am there to prove you wrong. Oh..and don't forget about the banter - I like to laugh a lot!
---
A Summer of Festivals
August 2017
Not meaning to draw a close to the Summer, but there is a definite chill in the air, so we are indulging ourselves in a moment of reflection.
Many of our pubs have been poked, enthused and cajoled (although not much has been needed) by their customers, neighbours and local village councils to run festivals and fetes over the last few months.
It's something that many of our managers love to get involved in once a year and we are very fortunate to work with some excellent local suppliers who jump at the chance to come along and showcase their products proudly in beer and spirit tents across the country. Here is the Physicians recent 'mini festival' to give you an idea of what's been happening.
---
We are now on Instagram
August 2017
We've decided that our pubs are in such picturesque places and although it's totally out of character for us to boast, we have been told, that many of our dishes look like works of art - so we thought we would share a few images every now and then on Instagram.
Follow us for a glimpse of what we are up to.
---
'Lifers' - Dee, from the Armoury Shrewsbury
July 2017
At B&P we are very fortunate to have lots of 'lifers' - those who joined us when they were mere snips of lads and lasses and have chosen to forge their careers with us.
This is Dee, who is currently Deputy Manager at the Armoury in Shrewsbury, having worked in many of our pubs over the last 28 years, since 1989.
"I have been in my current role as Deputy Manager for the past 21 years, before that I was a chef working down south. I've worked in the Fox Revived and the Black Jug before moving north to Harkers and the Grosvenor Arms. I love working with the public. When I started working for B&P in 1989 I was extremely shy... Not anymore though as working with lots of people gave me lots of confidence.
When recently asked what the future holds, Dee commented; "I'm getting rather tired these days, but rather than leave the job I love dearly, I have decided to go part time in the summer, as I feel if I left I would feel empty and lost, the Armoury is my home."
---
Little Manor Rose Queen Festival 2017
June 2017
Each year Little Manor joins in with the age old tradition of the 'Thelwall Rose Queen Festival'. It's now been running for over 50 years and we feel that the village pub should be at the heart of such things. There's the procession through the village, with a fair on the grounds of the village hall and the crowning of the Rose Queen.
This year proved to be the busiest ever for Little Manor. Our customers enjoyed our outside bar, BBQ, 'Gin, Fizz & Pimms tent' and three live bands playing in the glorious sunshine. The feedback has been fabulous from our customers, the crew worked so hard over the whole weekend but had a ball doing so.
---
'Lifers' - Jon, Ops Manager
June 2017
At B&P we are very fortunate to have lots of 'lifers' - those who joined us when they were mere snips of lads and lasses and have chosen to forge their careers with us. This is Jon (Astle-Rowe), known to us all as JAR, Ops manager for the North. He has been with B&P for very nearly 22 years.
"I worked on a farm when I left school, then became a BS Qualified welder, then went driving HGV Class 1 trucks and then worked for a training company. I eventually worked for Boddingtons, then found B&P. I started at the Grosvenor as an Assistant, then was promoted up to Deputy. I then became a manager at the Cross Foxes followed by the Combermere, then Armoury, then Architect and now onto the Operations manager role."
"The best bit is the people... seeing the great people we employ, and the pride they all take in doing the best they can in some pretty busy pubs. There have been hundreds of moments that I look back and think that B&P has been (and still is) a brilliant company to work for. All sounds quite cheesy, but our strength and the fun we have is all down to the people we employ."
---
Head office Race Day
May 2017
A lovely day was had by all when 'Head Office' took the afternoon off to try our luck with the 'gee gee's' at Chester races. Thankfully nobody won big enough to resign and move to the Caribbean. Instead many squandered their small winnings at the Champagne bar to make sure they were totally hydrated in the glorious sunshine that shone for us all day.
Once the horses were all safely stabled for the evening we made our way to the river to sail away in a boat crammed with homemade Black Forest Gateaux and enough cheese to sink a ...ah!
---
Publican Awards 2017
March 2017
We are delighted to have been 'Highly Commended' in the category of Best Food at this year's Publican Awards.
Our Exec Chefs, along with a selection of our talented Head Chefs donned their dickie bows in order to attend the ceremony in Battersea, London. A lovely opportunity to get together to reflect on their achievements and celebrate with a glass or two in order to dull their embarrassment thresholds enough to get on the dance floor.
---
The Dinorben Arms Coat of Arms
March 2017
We are delighted to have been granted permission to use the Coat of Arms of the 1st Lord of Dinorben as our emblem for the Dinorben Arms which is due to open in April.
The motto reads; RHAD DUW A RHYDDID 'The grace of God and Freedom'. We came across it when researching the history of the family as it appears on the family Mausoleum in the churchyard at St George, Kinmel. Lord Dinorben died in February 1852, aged 74, and was succeeded in the barony by his younger but only surviving son, William. Sadly William was disable and the title became extinct on his early death only eight months after succeeding in the title.
We think it makes for a pretty special pub sign and are thrilled that it will be positioned in pride of place above our front door.
---
Surrey Life Review - Fox Revived Opens
February 2017
Here is a lovely review from Surrey Life who recently visited the Fox Revived, Norwood Hill, the latest pub to join the Brunning and Price family.
Follow this link to see the full article.
---
Happy 1st Birthday to the Falcon
December 2016
It doesn't seem a year since we opened the doors on the Falcon near Banbury. But twelve months it is, so they decided to celebrate in style, asking all their new customers along to join in with the celebration with mince pies, mulled wine and song.
---
Merry Christmas!
December 2016
The office teams from Chester and Milford headed out for a spot of Christmas lunch at Glasfryn in Mold. We are never quite sure if everyone descending upon one of the pubs is an honour or a nightmare for the pub, but Graham and the team were the perfect hosts and everyone had the most enjoyable festive afternoon.
---
Brunning and Price to renovate The Fox Revived
December 2016
Brunning and Price are well on their way with the redevelopment of the Fox Revived on the cross roads in Norwood Hill. The pub has been closed now for quite a while to allow a complete refurbishment internally and externally. Gone is the old leaky conservatory to be replaced by a light and airy green oak extension which overlooks a new stone terrace area. The bar now sits at the heart of the building, large enough to allow for an array of 6 local cask ales and shelves stocked full of over 40 wines and countless spirits.
It isn't the first time that Brunning and Price have been involved in the history of this pub. They operated it around 20 years ago, and enjoyed great success. Many of the locals remember those days and have shared stories of how things used to be. The Fox Revived was the starting platform for many things that have now filtered into many of B&P's 57 pubs. The slow braised Lamb shoulder, which adorns most menus, was first introduced here in response to a large amount of requests for lamb from New Zealand cabin crew who were once regulars and many ex patrons recall the stuffed fox that sat looking out of the window with a cigar in his mouth and a pint in his hand. The taxidermy creation was often 'liberated' to be found in various places throughout the village only to be returned to his position in the pub. Sadly the original fox is no more, but rumour has it a 'mark 2' might be making an appearance. Hopefully it will be as popular, if not as well travelled, as the first.
Sadly, the pub was in a much worse state of repairs than first thought and there has had to be some major works to transform it back into the kind of country pub that will sit at the very heart of the local community. So the opening date moved from before Christmas to the beginning of February, giving time to finish off the building work and build up a team of around 40 crew members. Ryan Martinez will take over the reins. Ryan has worked for Brunning and Price for many years, latterly in the roll of Deputy at the Architect, which is nestled next to Chester race course. For Ryan this will be a homecoming as he was born and bred in Crawley and still has family members close by.
One of Ryan's earliest memories is of his mum and dad taking him for Sunday lunch at the Fox Revived, "Everyone knew it. It had huge heritage in the area and is still used as a land mark. My aunty and uncle used to 'court' there before they married."
As well as Ryan's 10 year old 'Westie' Harvey who will join him at the pub, he will also be joined by Lucy Dakin as Deputy manager, currently an Assistant manager at the Hayhurst, another pub in the B&P family in Bostock Green. Now that the management team is in place they are busily looking for enthusiastic, personable people to make up the rest of the 40 strong team.
"We are looking for lots of local 'crew members' to work in the bar, or waiting, kitchen and maintenance roles. You don't need to have experience, just genuinely love working with people and being generally 'hospitable', we will happily teach the rest if needed. To apply, for any role, please send your CV with a covering letter telling us about you and what makes you tick to [email protected], check out our website www.foxrevived.co.uk or find us on Facebook". Even though the opening is still a little way off, we are actively recruiting as we start their training now so that people can get the hang of things ahead of the opening.
"I'm really looking forward to creating our menu, finding some great new local suppliers and forming relationships. I love the idea of running beer festivals and evenings where customers can meet local brewers to find out more about their beers and taste what's on offer locally. We are fortunate to have a wealth of brewers in the area to choose from and I would love to hear from our customers about what they would like us to stock. The pub has a great bar at its heart and I hope that it will be a hub of local life. I've also heard of many local folk singers from the local residents so perhaps that would be something we could explore once we get a little more established.
Dogs will be welcomed in the bar area and we are busy mapping suitable circular walks from and to the pub so that customers can start their ramble with a little drink and then work up an appetite to dine on their return.
Our plan is to open in early February. We will update the website and Facebook with any notable dates and plans as they are finalised so we encourage anyone who is interested to follow our progress there."
For more photos, updates and vacancies at the pub, please 'Like us on Facebook' or see our 'Fox Revived website'.
---
5 Course Le Manoir tasting lunch for our winners
October 2016
This year's annual Food Development Awards 'Final of Finals' took place in Chester in October.
Each of the 4 winning couples took home the coveted 'meat cleaver trophy' and were whisked off for the day to enjoy a five-course tasting menu at Le Manoir Aux Quat'Saisons.
The talented winners enjoyed a guided tour of the beautiful vegetable gardens and the busy kitchens before being seated to dine on stunning dishes such as 'Pan seared duck liver, compressed apple and tamarind' and 'Soft toffee with bitter chocolate on a crumbly shortbread with salted butter ice cream'. An amazing day was had by all.
---
Chester Office GBBO
September 2016
We don't have a marquee or a gingham alter, but we do have a 'Mary', a few 'Paul's' and a deep routed love of cake, so each year our office in Chester choose a Monday and deem it 'Great British Bake of Day', then spend their Sundays whisking, baking and icing to create some sometimes (but not often) spectacular cakes, bakes and savouries.
Jon, our Operations Manager in the North, took the title of this year's star baker with a blatant attempt to win over the judges by lacing his sponge with gin, closely followed in second place by Suzy, Operations trainer, who stood out from the crowd with a savoury pie. In the award giving speech, Mary (Willcock, not Berry) summed up this year's entries by saying 'We had some entries that looked good, and some that tasted good, but...'
---
Summer Management Development Course
September 2016
This week saw the conclusion of our fifth management development course, and what a fine bunch they were. 12 new or deputy managers were nominated earlier in the year, by their Ops managers to take part in the five day course that was spread out over two months.
They began with a psychometric test for an insight into what makes them tick, then moved onto more physical challenges, romping through forests and swinging from trees in a bid to discover new team building skills. Then a few more sedate activities with their feet on the ground and their noses in some really insightful books.
The course culminated with a personal and group presentation and most importantly some pledges of personal and work goals to fulfil over the coming year (and of course a great big well deserved night out to celebrate their achievements).
---
Introducing Haighton Manor
September 2016
We are proud to announce the arrival of the latest addition to the family, Haighton Manor which opened it's does on Thursday, 8th September 2016. Sitting a little over 5 miles outside Preston city centre, the manor closed its doors in December after operating, for 4 years, as a privately run wedding venue.
There is a rich history to the building. Haighton Manor, then called Haighton House, was built sometime in the 1650's.The earliest owner to note was Richard Cardwell, head of a wealthy family of landowners and tanners of Barton. When Richard died in 1690, his inventory revealed that much of his wealth was in livestock suggesting that he had farmed the land around the manor. It then passed through various owners who modernised and updated the building through the ages until it became a mental illness hospital in 1910 until the 1960's. Plans to convert the historic property to an eating establishment were submitted in 1967 and Haighton Manor opened as a restaurant in the early 1970s.
When we happened upon the building we found that we needed to strip out all the 1970's additions to unearth the beautiful building beneath and add on a garden room to make the most of the stunning views across the land that Richard Cardwell would have once farmed.
Chris Humphries opens the doors today as Landlord. He hands over the reins of Haighton Manor's sister pub, the Aspinhall Arms in Mitton, in order to take up the helm of Haighton Manor. It's a return to his homeland as Chris moved to Preston from his hometown of Lowton on the Lancashire, Cheshire border when he was 20 and has close family nearby. He is joined by his wife Claire, who was born and bred in Preston, and their little girl Eleanor who is excited to start school for the first time in the local school. Their family isn't complete without their 'Swinger' (Springer Spaniel crossed with a Whippet) Max, their flock of chickens and 3 horses, which they hope to stable very close by.
Alongside the family and pets Chris is joined at Haighton by Martyn Barnes who heads up the kitchen team as head chef and deputy manager Steven Larkin, both of whom have been working with him for the last 3 years at the Aspinhall Arms. Our Assistant managers are Katherine Horrocks joins the team from another pub within the family, the Sparrowhawk in Fornby and Matt Andrews joins Brunning and Price for the first time.
They all look forward to settling in and getting to know everyone.
---
Company 'Do' 2016
September 2016
Each year we pick a date in September to wrap up the summer with a gathering of all of our Managers, Deputy Managers and Head Chefs. It's an opportunity for us to get together, discuss how the year is going and generally have a lovely time catching up.
We usually decide to hold a huge BBQ, but have been stung by the weather in recent years, so this year we decided against an outside affair and visited one of our biggest pubs, the Red Fox on the Wirral instead, so we could all shelter inside. Sods Law struck and it turned out to be a glorious day, so we quickly moved as many of the proceedings as we could outside, with a marquee, 'al fresco' Prosecco tasting session and live acoustic duet on the terrace.
When the sun set we did all move inside for some fun with casino tables and a bit of what, at a stretch could be called dancing.
---
The Prae Wood is almost there
June 2016
As you can see from this amazing bit of fly by footage, we are so nearly there with the Prae Wood Arms in St Albans. We are at that stage where a beautiful pub is beginning to emerge out of the dust. We have stripped back this building right to its 1800's roots, discovered slate walls, parquet flooring, stunning cornices and full height sash windows complete with casement shutters and we are now putting everything back together, making the most of these stunning features we have found along the way.
The garden has been reclaimed from huge dark conifers and is now terraced to run down to the pretty river Ver at its border, and the dining area under the original canopy has been extended to make even more room for dining 'al fresco' on those sunny English evenings.
We just need Chloe and Digby, the landlady and her beloved Labrador, to move in and then we are all on track and very excited to open later this month.
---
The Oakley Arms opens its doors at long last
May 2016
The Oakley Arms in Brewood is at last open after standing empty and unloved for the last 9 years.
We have spirited new life into the building by creating a stunning new pub restaurant which seats 160 inside and a further 100 on a terrace outside, that overlooks the much loved lake.
John Duncan the new Landlord is finding his feet and making himself and his family at home. He is no stranger to the area as he has been working and living locally in Blymhill since 2001.
John is joined at the Oakley by Charlie Ward, who has been the Deputy Manager at another pub within the family, the Fox in Newport for the last 9 years and Lee Walley, the Head Chef from the Oakley's sister pub the Hayhurst Arms in Bostock Green. So this opening has offered a great opportunity for those currently working for Brunning and Price who are enthusiastic to move around the country or further their careers.
"The locals seem to be delighted with the transformation, we have had many old members from the time when it was a private club trying to remember where they used to come in, where they used to sit and even where they used to dance. I must have heard 100 stories from the past and find it fascinating what has gone on within these walls.'' We have also seen a good number of walkers, taking advantage of our ifootpath route, coming in for afternoon refreshments. The dog owners have been here in droves, enjoying the fireside tables in the bar area, and we have even had one happy horse and owner"
"Brunning and Price prides itself on building local relationships with suppliers, it's up to the local management team to decide the line up on the bar and much of this is driven by customer suggestion. The most popular beer so far is the Salopian Oracle, closely followed by Wye Valley Butty Bach and the most popular dish at the moment would be our Braised shoulder of lamb with Dauphinoise potatoes, carrot mash and rosemary gravy, but I have to say the menu has a fairly good split across all the dishes as people experiment to find their favourites. Our suppliers are mostly British, small and artisan and many serve one or two pubs rather than national suppliers and this is how we like it as it is local folk supplying their produce to the local pub. So it's been nice to work with them to create our opening menu."
"I am loving life at the Oakley, what's not to like! I have a beautiful pub, beautiful gardens, the crew are fantastic and I am seeing so many new and old faces who are loving the place and, very importantly, my family have settled in well and are extremely happy.
---
Kieron, Head of IT/ Mountain conqueror's tales from the top - the Welsh 3000's challenge to raise funds for Parkinson's UK
May 2016
When a group of us made up from a few from head office, a few managers from all over the place and any willing crew members signed up for the Welsh 3000's seemed to be 'a good idea at the time'. 'Stuff' got very real when we were asked to be out of bed and ready to rock and roll by 6:15am on Tuesday 17th May and it got realer and realer as we stood in a stiff wind at the start point staring up into the mist for a glimpse of the first peak, the ominously named Crib Coch or red ridge in English.
I think it's fair to say that we all felt comfortable with the idea of a 2 day walk in Snowdonia but it turns out there aren't manicured paths between each of the 15 peaks which make up the challenge and we were required to do something called scrambling which is essentially rock climbing without the good sense to use a rope. Visualise if you will a misty morning turning into a very pleasant afternoon with the almost unlimited high calorie snacking interrupted only by the sound of popping knees. This idyllic scene then degenerated into 45mph winds and the wettest rain ever to fall from the sky at exactly the point where we were beginning to feel the burn 2 peaks into our second mountain range. Day 1 saw us home safe after 13 hours walking but short by 3 peaks, we were not going to make this challenge.
Day 2 saw the B team split further and one half of the group set out to conquer the 3rd range of mountains and stick to the plan whilst another group decided to assault the other end of the Glyderau range and pick off the fearsome Tryfan peak. This mission seemed a bit tame initially as our dismal day 1 had already been well and truly cast into shade by the victorious A group who completed the whole challenge in 17 hours, but by the time the temperature had dropped to 2 degrees and the hail had really got going, we felt pretty good about at least getting out of bed and having another go. By the end of the day our sister group completed their assault on the Carneddau range and the whole team repaired to Harkers to have a beer and compare notes. On the whole a memorable 2 days with some great people and we raised some useful money for Parkinson's UK.
---
The Three Peaks conquered!
June 2015
The B&P team made it back down to base camp at Mount Snowdon at 8:30am this morning, and so completed the Three Peaks challenge where they climbed the highest mountains in Scotland, England and Wales within 24 hours!
Speaking to various individuals, I don't think any of them realised quite what a monster it was going to be - they were tested to their very limits. Ellen from White Hart Sevenoaks was very poorly on the last mountain as a result of travel sickness, and was sick five times on the ascent, but she never stopped! Mind over matter, for all the team, and some £9,000 was raised for charity.
Congratulations to each and every one of them.
---
The White Hart Chobham opens its doors!
April 2015
After a three month closure for a tip to toe make-over while we bought the White Hart under the wing of Brunning and Price, we have thrown open our doors and are happily trading away. The property is a listed building dating from the 1500's, and we've taken great pains to retain the atmosphere and character of such a venerable old building.
---
The Pant Yr Ochain is refreshed
February 2015
After twenty years or so of trading its socks off, the Pant was sorely in need of a detox and a gentle facelift. For five days, behind closed doors, floors were sanded, tables re-finished, bookshelves painted white, lighting re-designed, the whole pub was redecorated and pictures were re-hung. The old girl emerged with a spring in her step and a glint in her eye, and is good to go again for the next twenty years.
---
The Hayhurst Arms is open!
February 2015
The Hayhurst Arms in Bostock Green has opened its doors and is going great guns. The general feeling is that it has helped bring back the social heart to the village, where people can meet their neighbours for a pint, take friends and family for a bite to eat, and where visitors will receive a warm and friendly welcome.
---
The good times are rolling again at Harkers!
January 2015
At Harkers, from Sunday 11th to Friday 16th January, a much needed rejuvenation campaign has seen the whole pub re-decorated, the floors, bar tops and tables re-polished, bookcases painted white, and everything subjected to a rigourous deep-clean
The net result is that you probably can't tell the difference, which is as it should be, but it does feel like it's in good shape for the future. Click here to view a gallery of photographs.
---
New life to be breathed into the White Hart in Chobham.
January 2015
Blubeckers at the White Hart in Chobham closed its doors for the last time on Sunday January 4th, but all is not lost - we've embarked on a ten week refurbishment operation which will see the White Hart re-born as a fully-dressed B&P pub with proper foodie credentials!
---
Refreshed and Revitalised
November 2014
In the last few weeks, both the Grosvenor Arms and the Hand and Trumpet have been rejuvenated with gentle facelifts.
The most significant change to the Grosvenor's interior are the bookcases in the library and the shelving around the walls of the pub, which have been painted white. The dark wooden panelling in the library has been painted a gentle pastel colour, the overall effect of which is to brighten the room which seems fresher and crisper.
When people come in, they notice the change in the feel of the pub, but generally can't identify what is actually different.
The Hand and Trumpet has had a more substantial makeover including an entirely new colour scheme and graphics on the outside of the pub, to create more interest and soften the tone. We've introduced a number of structural features inside the pub, most notably a screen separating the loos from the main body of the pub, which creates a lovely snuggy table in the corner. To the right of the front door, we've taken out a table and introduced club chairs and a coffee table to create a more relaxed atmosphere.
As with the Grosvenor, we have painted the bookcases in the library white, and the dark wooden panelling is now a pastel colour. Locals love it.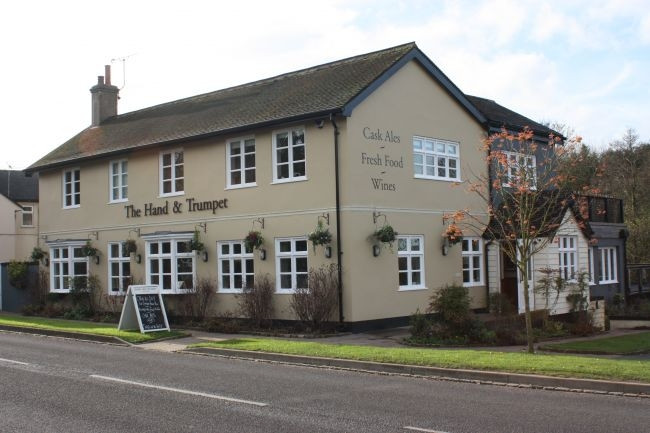 ---
Gomshall mill race refurbishment
August 2014
Gomshall Mill is a historic and wonderfully atmospheric pub in Guildford, which we look after under the umbrella of our Home Counties family of pubs and restaurants.
Over the past few hundred years, the mortar holding the stones together in the mill race under the pub has been eroded and eaten by an army of crayfish, allowing water to enter the fabric of the building and flood the downstairs rooms.
So the river was dammed above and below the pub, two huge pumps were deployed to pump the stream around the dams, and one pump was used to pump out the mill race itself. When the process was competed, there were shoals of crayfish left in the pools that remained, and some very large fish, including brown trout and a huge carp.
Link to the gallery here
---
Bradley Wiggins sails past the Grosvenor Arms
August 2014
The Tour of Britain bike race went through Saighton, south of Chester, passing our offices there and continuing on past the Grosvenor Arms. Here's Bradders as part of Team Sky in front of the pub.
---
The Blue Plaque at the Greyhound, Besselsleigh
June 2014
The Greyhound was recently the recipient of Blue Plaque Award from English Heritage to commemorate Alfred White, 1804 - 1876, innkeeper and famous Church Bellhanger.
He founded the business Whites of Appleton, which is the oldest continuously trading Bellhanging company in the UK, founded in 1824.
A man of many skills, Alfred was the innkeeper at the Greyhound from 1850 to 1876, when he also ran a bakery, the village shop and a forge. Busy chap.