Parties, Meetings & Private Hire
Here at the Steam Packet, we know a thing or two about hosting a great party.
We are fortunate to be able to accommodate a wide variety of events for our guests, including, corporate summer parties, office Christmas parties, product launches, networking events, birthdays, christenings, private dining, baby shower, the list goes on! Whatever the event, we can help.
The Steam Packet is an ideal venue to hold that special event. Whatever your event we can tailor it to your requirements so you can relax and concentrate on having a great time. Why not let us take the stress out of the event organising (BIG or small) and allow us to host your special occasion.
With 4 distinct areas (not including the bar area), tables by the river and a whole venue hire option we can offer the perfect atmosphere for any event.
---
The Balcony
1st floor with unrivalled views of the Thames and Kew Bridge this is the most requested spot by our many visitors for obvious reasons. We can accommodate maximum 18 seated.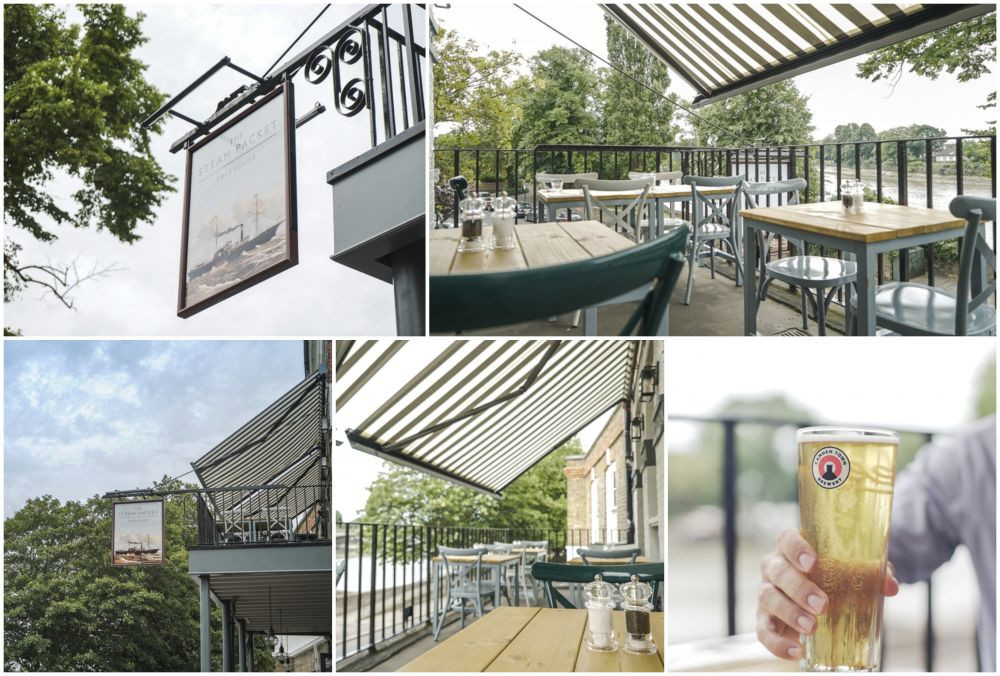 ---
Upper Deck
Full of natural light and airy the upper deck located on the first floor is a fabulous dinning/drinking area. We can accommodate 35 seated comfortably, with windows and doors affording the same great views as the balcony itself. Or if you prefer, 55 standing, with the removal of some of the furniture if you fancy a bit of a boogie. There is also an option to include the balcony in the upper deck hire.
---
Galley
A more private and cosy area towards the back of the pub which seats a max of 22, and with removal of some tables 30 standing.
---
Terrace
Directly at front of building this area sits a max of 8, as with balcony it is a much-requested spot on a sunny day and has heaters on the walls for when the sun goes down.
---
Riverside Tables
Directly opposite the pub and situated at the river wall, we can accommodate a max of 18 seated and you can sit watching the world float by.
---
Whole Venue Hire
Why not make use or the entire pub? Weddings and large-scale events of up to 150 people utilizing all areas of the pub. Custom menus available upon request. We would love to talk through your ideas and see if The Steam Packet is the perfect place for your event.
---
Features
Free Wifi
55" Smart TV on stand (ideal for presentations)
Beautiful decor
Daytime and evening availability
Full venue hire
Licensed until Midnight
Live Music options available for exclusive hire
Outside space
Music system
No venue hire (minimum spend)
Licensing
Licensed until Midnight
Licensed until 11:30pm on Sundays
Food And Drink
Inhouse catering and bespoke menus
Excellent drinks range
Corkage permitted
---
Minimum spend guide for full venue private hire:
Mondays and Tuesdays | 10am – 11pm | Prices Starting From £3500 | Minimum Spend
Wednesdays | 10am - 11pm | Prices Starting From £4000 | Minimum Spend
Thursdays | 10am - Midnight | Prices Starting From £4500 | Minimum Spend
Fridays | 10am - Midnight | Prices Starting From £5500 | Minimum Spend
Saturday | 10am - Midnight | Prices Starting From £7500 | Minimum Spend
Sunday | 10am - Midnight | Prices Starting From £6000 | Minimum Spend