Use the 'Eat Out to Help Out' scheme here.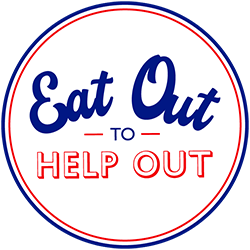 Get a 50% discount on food and non-alcoholic drinks, up to a maximum of £10 discount per diner.
Valid every Monday, Tuesday and Wednesday between the 3rd and 31st August.
Welcome
Our pub, the Mill House, is a Grade II listed watermill with its roots steeped in medieval times, it really is an extraordinary building. Upstairs you'll find a forest of beams and floors that have warped and tilted over hundreds of years, and throughout it's absolutely atmospheric.
The gardens and the Mill pond are an absolute delight on a sunny day: there is nowhere more pleasant for a spot of lunch with family and friends.
Menus
Our passion lies in finding quality fresh ingredients and preparing, cooking and presenting them in a modern but unpretentious way. Our menus have a spine of classic British dishes complemented by more exotic influences from other parts of the world. We upload them to our web site each day before 12 noon so that you may peruse them at your leisure.
Recommendations

Thanks to our customers recommending us, you'll find us in the:
2020 Good Pub Guide
---
Other recommendations
Good Pub Guide2012, 2013, 2014, 2015, 2016, 2017, 2018, 2019
Love pubs? Like walking? Read on...
AllTrails have kindly created a circular walk from the pub to help you work up that thirst/appetite. You can view the walk details via any of the routes below. (varying levels of tech savyness required -Ed)
Mill House, Butter Wood and Basingstoke Canal an AllTrails walk
Latest from Facebook
Posted today at 12:24pm
We wanted to share with you the wonderful news that Tom has just been made Trainee Assistant Manager here at the Mill House! He is such a fabulous new addition to our management team, and we hope that you will join us in raising a glass to him! Well done Tom!