Local Attractions
There's plenty to do in the area, you could make a day of it and visit a local attraction before or after you come to see us.
Royal Shakespeare Theatre
Waterside, Stratford-upon-Avon, Warwickhsire, CV37 6BB
Tel: 01789 331111 | Visit their website
Varied
Owned by the Royal Shakespeare Company and dedicated to the English playwright and poet William Shakespeare. A constant changing list of shows, there's no where better to enjoy the rollercoaster of emotions that Shakespeare takes you on.
From the Bell - 4.5miles to/from Royal Shakespeare Theatre.
---
Shakespeare's birth place
The Shakespeare Centre, Henley St, Stratford-upon-Avon,CV37 6QW
Tel: 01789 204016 | Visit their website
Winter 2019 / Spring 2020, 28 October 2019 - 29 March 2020: 10am-4pm
Walk in Shakespeare's footsteps and explore the house where he was born and grew up. Hear tales of Shakespeare's family life, enjoy live theatre on demand and get up close to rare artefacts from the Trust's world class collections.
From the Bell - 4.8miles to/from Shakespeare's birth place.
---
Butterfly Farm
Swan's Nest Lane,Stratford-upon-Avon,Warwickshire,CV37 7LS,
Tel: 01789 299 288 | Visit their website
10am - 5pm, all days excluding Christmas day
Come rain or shine enjoy the unique pleasure of discovering hundreds of the world's most beautiful butterflies flying in an exotic environment of tropical blossom with splashing waterfalls and fish filled pools.
From the Bell - 4.5miles to/from Butterfly Farm .
---
Blenheim Palace
Woodstock, Oxfordshire OX20 1UL
Tel: 01993 810530 | Visit their website
Varied for the house and grounds, we recommend checking their website.
From its stunning Baroque architecture to its extraordinary parkland and gardens – this exquisite palace is guaranteed to deliver an awe-inspiring experience for every visitor.
From the Bell - 25 miles to/from Blenheim Palace.
---
Cotswold Distillery
Phillip's Field, Whichford Road, Stourton, Shipston-on-Stour, CV36 5HG
Tel: 01608 238 533 | Visit their website
Shop opening times: Monday - Saturday: 9am – 5pm, Sunday: 10:30am – 5pm
The first distilliry in the Cotswolds open to visitors. You can wander around the visitor centre, do a spot of shopping and even take a tour of the distillery itself.
From the Bell - 10 miles to/from Cotswold Distillery .
---
Wellesbourne Wartime Museum
Airfield Estate, Loxley Rd, Wellesbourne, Warwick CV35 9EU
Tel: 0121 777 3518 | Visit their website
Sundays only 10am-4pm
A great way to spend a Sunday morning before joining us for Sunday lunch! Based in an underground emergency wartime command and control bunker, and houses a collection of aviation artefacts and aircraft.
From the Bell - 5 miles to/from Wellesbourne Wartime Museum.
---
Warwick Castle
Warwick Castle, Warwick,CV34 4QU
Tel: 01926 495 421 | Visit their website
Monday - Friday: 10am - 5pm
Explore one of the top 10 tourist attractions in the country! There's a variety of shows, exhibitions and a guaranteed fabulous family fun day out. We won't ask you who you put in the stocks!
From the Bell - 12 miles to/from Warwick Castle .
---
The MAD museum
4-5, Henley St, Stratford-upon-Avon CV37 6PT
Tel: 01789 269356 | Visit their website
Open daily: 10:30am-4:30pm
The Mechanical Art & Design Museum. Visit one of Warwickshire's best loved museum to watch and interact with mind-boggling mechanical creations.
From the Bell - 5 miles to/from The MAD museum .
---
Anne Hathaway's Cottage
Cottage Ln, Stratford-upon-Avon CV37 9HH
Tel:  01789 338532 | Visit their website
Open daily: 10am-4pm
Visit Anne Hathaway's Cottage, the beautiful 500 year old cottage where Shakespeare courted his bride-to-be and uncover five centuries of stories.
From the Bell - 5.5 miles to/from Anne Hathaway's Cottage .
---
Stratford-upon-Avon
Stratford-upon-Avon, CV37 6GJ
Other than being Shakespeare's birthplace, Stratford-upon-Avon has a whole host of things do. Leisurely river boat trips , shopping, exploring historic landmarks and beautiful parks to stroll around.
From the Bell - 5 miles to/from Stratford-upon-Avon.
---
Charlecote Park
Charlecote, Warwick CV35 9ER
Tel: 01789 470277 | Visit their website
Open daily: 9am-4pm
Discover the treasures of the house, visit the Victorian kitchen and outbuildings or explore the parkland. Part of the National Trust, there really is something for everyone.
From the Bell - 6 miles to/from Charlecote Park .
---
British Motor Museum
Banbury Rd, Gaydon, Warwick CV35 0BJ
Tel: 01926 641188 | Visit their website
Open daily: 10am-5pm
Explore this family-friendly motor museum and its impressive Collections Centre to discover the fascinating story of the British motor industry.
From the Bell - 14 miles to/from British Motor Museum .
Opening times
| Day | Open | Breakfast served | Daily menu |
| --- | --- | --- | --- |
| Monday | 7:30am - 11pm | 7:30am - 10am | 12noon - 9pm |
| Tuesday | 7:30am - 11pm | 7:30am - 10am | 12noon - 9pm |
| Wednesday | 7:30am - 11pm | 7:30am - 10am | 12noon - 9pm |
| Thursday | 7:30am - 11pm | 7:30am - 10am | 12noon - 9pm |
| Friday | 7:30am - 11pm | 7:30am - 10am | 12noon - 9:30pm |
| Saturday | 7:30am - 11pm | 7:30am - 10:30am | 12noon - 9:30pm |
| Sunday | 7:30am - 10:30pm | 7:30am - 10:30am | 12noon - 9pm |
Children and minors
Whilst primarily an adult's environment, children are welcome in areas away from the bar, although the pub is not very suitable for babies and toddlers in the evenings. We have changing facilities and some high chairs available.
Disabled Access
We have full disabled access in the pub, including a disabled loo and disabled parking. Please don't hesitate to ask if you need any assistance.
Four-legged friends
Dogs of the well behaved and on-the leash variety are welcome in the majority of the pub, but we do have a section for those who would rather dine without. If you wish to book and have your dog join you, please let us know in advance to ensure you're seated in a dog friendly area.
Weddings and Private Functions
We're a pub at heart and that means that we like to welcome all our customer who just want to pop in for a drink or bite to eat. Unfortunately, this means that we can't accept bookings for large private functions.
We do however have a private dining room upstairs which can accommodate up to twenty guests. If you would like to see the room please ask at the bar next time you are in and, if it's free, we'll be happy to show it to you.
A few hints on how things work
First off, life revolves around the bar, so that's where to head for drinks, menus and to find out where you're sitting if you've booked. If you're arriving for an overnight stay, ask at the bar and we'll look after you from there.
Food ordering:
Inside - someone will pop over and take your order. Outside or at the Baby Bell - please find a table, note its number and then order at the bar when you're ready.
Bookings
We do take bookings, but we try to make sure that there is room for customers who are not able to book in advance, so if you have not made a reservation, it's not the end of the world. If there are no tables free we run a waiting list.
Please make bookings by calling or using our online bookings calendar link at the top of the page. Unfortunately we are not able to take bookings via email or facebook.
We don't reserve any of our outside tables so if you enjoy a little alfresco dining these are on a first come first served basis.
Sadly due to our operation we are not able to cater for very large parties or groups.
Gardens
If you are eating outside, it is a great help if you could make a note of your table number before ordering at the bar.
The gardens are intended to be relaxing for all and so, we ask that no ball games are played in the grounds at any time.
By the way, could you please keep tops on and shoes on at all times. This applies to blokes as well.
Taxis
Stour Valley Private Hire - 01789 459 049 Othello Taxis - 01789 336 226 Sapphire Taxis - 01926 881 313 Unicorn Cars - 01789 334 860 Chauffeur driven by Bruce - 01789 264 626
Meal Tickets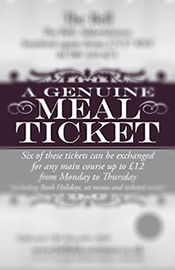 ---
As a little reminder, a Meal Ticket is received for each main course or light bite purchased at full price. Six tickets can then be exchanged to claim up to £12 off the price of your chosen main meal or light bite from Monday to Thursday (excluding Bank Holidays, set menus, ticketed events and click and collect). For full terms and conditions, please click here.
---