Local Attractions
There's plenty to do in the area, you could make a day of it and visit a local attraction before or after you come to see us.
Ragley Hall
Is the family home of the 9th Marquess and Marchioness of Hertford and their children. Visitors can explore the stunning 17th Century Stately home, park and gardens while the amazing adventure playground and maze is suited for children of all ages. The perfect family day out! Best thing is its just across the road.
From Arrow Mill - 0.2 miles to/from Ragley Hall.
---
Roman Alcester Heritage Centre
is the exciting free-of-charge exhibition interpreting and displaying objects from Alcester's Roman past.
From Arrow Mill - 1.2 miles to/from Roman Alcester Heritage Centre.
---
Stratford- upon – Avon
Most famous for being the birthplace of William Shakespeare, Stratford-upon-Avon makes for the perfect day out. Aside from Shakespeare you can also enjoy a boat trip on the river Avon or visit the butterfly farm.
From Arrow Mill - 9.3 miles to/from Stratford- upon – Avon .
---
Shakespeare's Birth Place
Visit Stratford-upon-Avon to walk in Shakespeare's footsteps and explore the house where he was born and grew up. Hear tales of Shakespeare's family life, enjoy live theatre and get up close to rare artefacts from the Trust's world class collections as you discover how the extraordinary William Shakespeare continues to shape our lives today
From Arrow Mill - 8.4 miles to/from Shakespeare's Birth Place .
---
Royal Shakespeare Company Theatre
The Royal Shakespeare Theatre in Stratford puts on a variety of plays throughout the year, so where better to see a Shakespeare play than in the town he was born
From Arrow Mill - 9.1 miles to/from Royal Shakespeare Company Theatre.
---
Anne Hathaway's Cottage
The beautiful 15th century cottage that was once home to Shakespeare's beloved wife Anne Hathaway. Enjoy the stunning gardens and further explore the life of William Shakespeare
From Arrow Mill - 7.6 miles to/from Anne Hathaway's Cottage.
---
Warwick Castle
A medieval Castle first constructed in 1068 under William the Conqueror and has been developed over the years by the long line of residents. Plenty of activities to get stuck in to for the whole family as well as the Warwick Castle Dungeon experience which is sure to give you a freight.
From Arrow Mill - 16 miles to/from Warwick Castle .
---
Kenilworth Castle
Kenilworth Castle was first built in 1120s and in 1563 was granted to Robert Dudley, Earl of Leicester, by Elizabeth I. Today, you can scale the heights of the tower built to woo Queen Elizabeth I and marvel at the mighty Norman keep. Explore the exhibition in the castle's Gatehouse and imagine the Great Hall playing host to medieval monarchs and early Tudor kings.
From Arrow Mill - 21 miles to/from Kenilworth Castle .
---
Mary Ardens Farm
Built by Mary's father, Robert Arden around 1514, Mary Arden's House has been significantly altered over time. Enjoy learning about what life must've been like when Mary lived here along with her seven sisters. You can meet the animals, take part in recreated 1500's household activities and there is even an adventure play area for the children
From Arrow Mill - 6.8 miles to/from Mary Ardens Farm .
---
Hanbury Hall
This stunning William and Mary style country house, park and gardens offers a glimpse into early 18th century life. A house filled with drama & politics, surrounded by stunning gardens, orchards and country walkways, this attraction gives a detailed insight into Georgian society and way of life
From Arrow Mill - 12 miles to/from Hanbury Hall .
---
Charlecote Park
A grand 16th Century House surrounded by its own deer park and stunning gardens which has been home to the Lucy family since the 12th Century. The abundance of portraits throughout the house tell the lives and tales of this family throughout the years.
From Arrow Mill - 15 miles to/from Charlecote Park.
---
Worcester Cathedral
This is one of England's most fascinating cathedrals. With Royal tombs of King John and Prince Arthur, ancient crypt and chapter house, and magnificent Victorian stained glass. There is also an ancient library and archive, which houses the second largest collection of medieval manuscripts in any cathedral in the UK.
From Arrow Mill - 17 miles to/from Worcester Cathedral .
---
British Motor Museum
This is the world's largest collection of Historic British cars. There are over 300 classic cars for you to explore from both the British Motor Industry Heritage Trust and the Jaguar Heritage Trust. They offer free tours and interactive family activities - plenty to keep everyone entertained.
From Arrow Mill - 24.1 miles to/from British Motor Museum .
---
Broadway Tower
Broadway Tower is a folly on Broadway Hill, near the large village of Broadway, in the English county of Worcestershire, at the second-highest point of the Cotswolds. Broadway Tower's base is 1,024 feet above sea level with views for miles around.
From Arrow Mill - 14 miles to/from Broadway Tower.
---
Evesham Vale Railway
Enjoy a steam train ride through some of the most beautiful countryside that The Vale of Evesham has to offer. If you wish to take a break from your journey then you can stop off at Evesham Vale station to enjoy the riverside, picnic and play area. A perfect family day out.
From Arrow Mill - 8.9 miles to/from Evesham Vale Railway .
Opening times
| Day | Open | Daily menu |
| --- | --- | --- |
| Monday | 10:30am - 11pm | 12noon - 9pm |
| Tuesday | 10:30am - 11pm | 12noon - 9pm |
| Wednesday | 10:30am - 11pm | 12noon - 9pm |
| Thursday | 10:30am - 11pm | 12noon - 9pm |
| Friday | 10:30am - 11pm | 12noon - 9:30pm |
| Saturday | 10:30am - 11pm | 12noon - 9:30pm |
| Sunday | 10:30am - 10:30pm | 12noon - 9pm |
Christmas opening times
| Day | Open | Breakfast served | Menu served |
| --- | --- | --- | --- |
| Christmas Eve | 8:30am - 11pm | 8:30am - 10:30am | 12noon - 9:30pm |
| Christmas Day | 12noon - 4pm | Breakfast - Residents only | 12noon - 2pm |
| Boxing Day | 8:30am - 7pm | 8:30am - 10:30am | 12noon - 5pm |
| New Year's Eve | 8:30am - 1am | 8:30am - 10:30am | 12noon - 9:30pm |
| New Year's Day | 8:30am - 9pm | 8:30am - 10:30am | 12noon - 7pm |
Disabled facilities
Disabled facilities - we have full disabled access including an accessible toilet and close parking spaces. We are however, unable to offer wheelchair access to the rooms.
The Sisam room is available for smaller celebrations for up to 50 people. For a little more information see our Function Room page or call us direct to discuss your requirements.
Children and minors
Whilst primarily an adult's environment, children are welcome in areas away from the bar, although the pub is not very suitable for babies and toddlers in the evenings. We have changing facilities and some high chairs available.
Dogs
Dogs of the well behaved and "on the leash" variety are welcome in the locals bar area and in the garden.
Taxis
Alcester
Conway Cars - 01789 762828
Mervs Cars - 01789 777303
Redditch
A1 Taxis - 01527 66666
Stratford-Upon-Avon
007 Stratford Taxis - 01789 414007
Evesham
Emerald Taxis - 01386 761705
Helicopter Landing Coordinates
Should you wish to arrive by helicopter, here are the landing coordinates and details required for landing:
Please get in touch prior to landing so we know to expect you.
N 52 12.17 W 001 52.87 150ft AMSL 6 NM West of Stratford upon Avon and West side of River Arrow.
H displayed Adequate space for several helicopters with no landing fee.
Bookings
We do take bookings, but we try to make sure that there is room for customers who are not able to book in advance, so if you have not made a reservation, it's not the end of the world. If there are no tables free we run a waiting list.
Please make bookings by calling or using our online bookings calendar link at the top of the page. Unfortunately we are not able to take bookings via email or facebook.
We don't reserve any of our outside tables so if you enjoy a little alfresco dining these are on a first come first served basis.
Service
First off, life revolves around the bar, so that's where to head for drinks, menus and to find out where you're sitting if you've booked.
If a table isn't reserved you're welcome to sit at it and have a bite to eat or drink. If you can't find a table, ask and we'll try to find one for you.
Food ordering:
Inside - someone will pop over and take your order. Outside - please find a table, note its number and then order at the bar when you're ready.
The gardens and terrace
If you are eating outside on our lawns or terrace, it is a great help if you could make a note of your table number before ordering at the bar.
By the way, could you please keep tops on and shoes on at all times. This applies to the gents as well.
Meal Tickets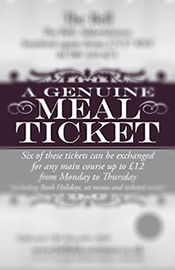 ---
As a little reminder, a Meal Ticket is received for each main course or light bite purchased at full price. Six tickets can then be exchanged to claim up to £12 off the price of your chosen main meal or light bite from Monday to Thursday (excluding Bank Holidays, set menus, ticketed events and click and collect). For full terms and conditions, please click here.
---