Local Attractions
There's plenty to do in the area, you could make a day of it and visit a local attraction before or after you come to see us.
---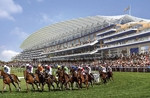 Information
Opening times
Day
Open
Food served
Monday
11am - 11pm
12noon - 9pm
Tuesday
11am - 11pm
12noon - 9pm
Wednesday
11am - 11pm
12noon - 9pm
Thursday
11am - 11pm
12noon - 9pm
Friday
11am - 11pm
12noon - 10pm
Saturday
9am - 11pm
9am - 10pm


We serve Brunch from 9am to 11am with our main menu available from 12noon

Sunday
9am - 10:30pm
9am - 9pm


We serve Brunch from 9am to 11am with our main menu available from 12noon
Brunch Menu served on the weekends
On Saturday and Sunday we open from 9am serving Brunch up to 11am. For full details please see our Brunch menu under the menus tab.
Disabled facilities
We have full disabled access including a disabled loo and disabled parking. Please don't hestitate to ask if you need any assistance.
Children and Minors
Whilst primarily an adult's environment, children of the well behaved variety are welcome in areas away from the bar, although the pub is not very suitable for babies and toddlers in the evenings. We have changing facilities and some high chairs available.
Prams
Due to the physical limitations of the building, unfortunately we cannot always accommodate prams in some areas of the pub, please call ahead to check availability. However, we do offer space for safe keeping at the rear of the pub, which is under cover from all the elements. Sorry for any inconvenience.
Bookings
We do take bookings, but we try to make sure that there is room for customers who are not able to book in advance, so if you have not made a reservation, it's not the end of the world. If there are no tables free we run a waiting list from behind the bar.
Please make bookings by calling or using our online bookings calendar link at the top of the page. Unfortunately we are not able to take bookings via email or facebook.
We don't reserve any of our outside tables so if you enjoy a little alfresco dining these are on a first come first served basis.
Sadly due to our operation we are not able to cater for very large parties or groups.
Car Parking
Free parking is available in our private car park behind the pub with around 40 spaces available.
Should our car park be full, you'll find alternative parking available in the well lit high street car park which is less then a 3 minute walk from the pub. Evenings (after 6pm) and weekends are free. During the week, the first two hours are free, after this it is 40p per hour up to a maximum of £2.50 for the day (pay and display).
To get get to this car park, turn right out of the White Hart car-park and right again at the mini round about. The public car-park is sign posted and the first turning on the right.
Private dining room
If you'd like to join us with a larger party, we have a private dining room available. It is not a meeting room as such but can be booked for dining groups of up to twelve people by prior arrangement for either lunch or dinner. For further information please contact us.
Service
First off, life revolves around the bar, so that's where to head for drinks, menus and to find out where you're sitting if you've booked.
If a table isn't reserved you're welcome to sit at it and have a bite to eat or drink. If you can't find a table, ask and we'll try to find you one.
Food ordering:
In the main bar area if you could pop to the bar to order. In the restaurant areas someone will come over.
Taxis
Alpha Radio Taxi: 01483 476 655
Ambar Taxi: 01483 476 565
Virginia Water Taxi: 01344 842500
Accommodation
Lyndricks House: 01344 883 730
Ennis Lodge: 01344 621 009
TY Nant B&B: 07768 353 585
Meal Tickets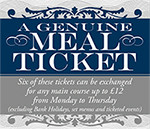 Click here for all you need to know about meal tickets.