Use the 'Eat Out to Help Out' scheme here.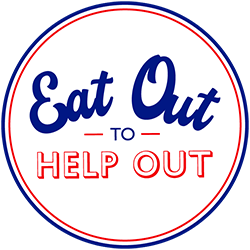 Get a 50% discount on food and non-alcoholic drinks, up to a maximum of £10 discount per diner.
Valid every Monday, Tuesday and Wednesday between the 3rd and 31st August.
Welcome to the website for the Plough and Harrow
The Plough and Harrow sits in the shadows of the Malvern Hills, a view that is best appreciated from the balcony of our beautiful first floor Private Dining room which seats up to 22 people. Downstairs the bar is positioned at the heart of all things, crammed with local ales and tipples to temp any taste buds. There are rooms to squirrel away in, in the old pub building, steeped in history or light bright seating areas in the new garden room or library. Stone terraces flank the pub both to the front and side of the building to follow the sun around throughout the day and our lovely lawn stretches out to make the most of the stunning location just outside the village centre of Guarlford.
Our menus
Being foodies at heart, our menu, is something of an eclectic mix, striking a balance of hearty pub classics, complemented by more exotic influences from around the world. It changes regularly and reflects the seasons but always offers a mix of traditional British dishes alongside something a little different.
We're currently working on our opening menu with the chef team but to whet your appetite, click on the link below:
Love pubs? Like walking? Read on...
AllTrails have kindly created a circular walk from the pub to help you work up that thirst/appetite. You can view the walk details via any of the routes below. (varying levels of tech savyness required -Ed)
Guarlford and the Plough and Harrow an AllTrails walk
Latest from Facebook
Posted on 5th August
What a busy start to the week we've had, we highly recommend booking for the coming weeks if you'd like to enjoy the Eat Out To Help Out scheme with us! Thank you to everyone who's joined us so far 😊 Full details of the scheme can be found on our website www.brunningandprice.co.uk/plo...