Menus
Use the 'Eat Out to Help Out' scheme here.
Get a 50% discount on food and non-alcoholic drinks, up to a maximum of £10 discount per diner.
Valid every Monday, Tuesday and Wednesday between the 3rd and 31st August.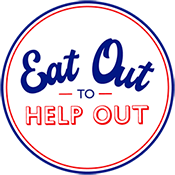 Each day, before midday we upload the day's menus, it's always nice to whet your appetite before you even get to us. We also add in more detail about each dish in case you need to check out the ingredients for allergen information.
Weekend Breakfast Menu
Breakfast is the most important meal of the day so we're told... But let's face it, it's also a great big faff from beginning to end.
So with your well-being and happiness in mind we are now serving Breakfast from 9am to 10:45am on Saturdays and Sundays (see our menu below), with our daily menu served from midday. During the week we are open from 10am for croissants, pastries and hot drinks.
We are happy to provide you with allergen guidelines for all our menu items, but due to the nature of our busy kitchen, there is a small risk that traces of these may be found in any other dish.
Where certain allergens are highlighted the allergen may relate to just one component of the dish, which may easily be substituted or removed. For more information please ask one of our crew.
Tick above to remove foods containing these items from the menu
---
Full English; Robert and Edwards pork sausages, black pudding, bacon, fried eggs, sautéed mushrooms, grilled tomato and toast £9.95
Contains: Gluten, Eggs, Soy Beans, Milk / Lactose, Mustard, Sulphur Dioxide
Scrambled eggs with Scottish smoked salmon, served on toasted granary bread and capers £7.50
Contains: Gluten, Eggs, Fish, Soy Beans, Milk / Lactose
Eggs Benedict with honey roast ham, poached egg and hollandaise sauce £6.95
Contains: Gluten, Eggs, Fish, Soy Beans, Milk / Lactose, Sulphur Dioxide
Pan fried wild mushrooms with spinach and poached egg on toasted brown bloomer £6.75
Contains: Gluten, Eggs, Soy Beans, Milk / Lactose, Sulphur Dioxide
Pork sausage sandwich on your choice of a brioche bun or toasted bloomer £5.95
Contains: Gluten, Eggs, Soy Beans, Milk / Lactose
Bacon sandwich on your choice of a brioche bun or toasted bloomer £4.50
Contains: Gluten, Eggs, Soy Beans, Milk / Lactose
Warm buttermilk pancakes with crisp bacon, maple syrup and fresh blueberries £5.95
Contains: Gluten, Eggs, Soy Beans, Milk / Lactose, Sulphur Dioxide
Freshly baked croissant with jam and butter £2.45
Contains: Gluten, Eggs, Milk / Lactose
---
Breakfast Tipples (from 10am)
Le Dolci Colline Prosecco 125ml good Prosecco nose with a salty tang. Breakfast for the brave. £4.95
Bucks Fizz a classic to start the day! Prosecco and Orange Juice £6.25
Bloody Mary One of your five a day! Smirnoff Vodka, Tomato Juice and all the trimmings. £5.95
---
Hot Drinks
Tea (various flavours) £2.50
Contains: Gluten, Milk / Lactose, Sulphur Dioxide
Latte £2.75
Contains: Gluten, Milk / Lactose, Sulphur Dioxide
Espresso (double) £3.20
Contains: Gluten, Milk / Lactose
Hot chocolate £2.75
Contains: Gluten, Milk / Lactose, Sulphur Dioxide
Espresso (single) £2.10
Contains: Gluten, Milk / Lactose, Sulphur Dioxide
Decaffeinated Cafetiere £2.60
Contains: Gluten, Milk / Lactose, Sulphur Dioxide
Cappuccino £2.75
Contains: Gluten, Milk / Lactose, Sulphur Dioxide
Orange Juice £1.85