Terms and Conditions
Meal Tickets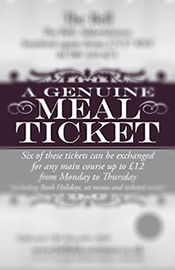 We like to keep our 'Genuine Meal Tickets' nice and simple, but incase there is any confusion, hopefully the following will answer any questions:
Available all day Monday to Thursday (excluding bank holidays)
Redeem six Meal Tickets to claim £12 off the price of your chosen main meal
Not redeemable against any other offers, ticketed events, or set menus
Tickets can be redeemed at our sister pubs
Tickets are not redeemable on the day of issue
No cash value
You receive a meal ticket for each main course or light bite purchased at full price. Please note, you will not receive a meal ticket for a dish paid for with meal tickets.
Tickets are not redeemable after their expiration date
Expiry date extension: As you haven't been able to redeem tickets for the last 5 months, we will add 5 months onto the redemption period for any that you currently have. For example, any ticket that expires in November 2020 will be honoured up until the end of April 2021.