Terms and Conditions
Booking cancellation policy
Please let us know if your plans change and you can't make it. If we don't hear anything and you're a no-show, we will charge £10 per person to the credit card on file.
We do not store any credit card details in the pub.
This service is provided by Stripe who are a global payment provider and certified as a PCI Level 1, meaning all card information is stored securely and encrypted by Stripe, not Brunning and Price pubs.
Card details are attached against a specific booking and are deleted at the end of the holding period which is 7 days from reservation date. If we ever need to charge a card – Stripe process this for us, we never have visibility of the card details.
The best way to cancel your booking is by following the links at the top of the confirmation email.
Click & Collect and Order & Pay terms and conditions
Brunning & Price Ltd is a Company registered in England and Wales.
Only those of 18 years and above can purchase alcoholic drinks through our Click and Collect or Order and Pay system. Management reserves the right to refuse service. Dishes may contain nuts, please make us aware of any allergens or special requirements at the point of ordering. Drinks and Dishes will be delivered to your table as soon as possible.
We provide the website www.brunningandprice.co.uk in order to facilitate the compilation and communication of your orders for food and drink for consumption in, or collection from, one of our pubs. You may be required to submit your personal details to use our 'service'.
You can access some areas of our website without placing an order or registering your details with us and by accessing any part of our website, you have agreed to these terms.
General terms and conditions for payments online:
You must be over 18 to purchase alcoholic or age-restricted products and you may be asked to provide valid ID, on request.
The Manager reserves the right to refuse service.
We accept no responsibility for any damage or data loss caused to your device as a result of paying online. In the case of 'jail-broken' phones – owing to the compromised security as a result of the 'jail-breaking', there is a real risk of data breach.
All products are subject to availability. Alternative products or refunds may be offered, where appropriate, at the manager's discretion.
We apologise, but it is not possible to amend or cancel orders, once placed.
Meal tickets cannot be used as a form of payment and will not be issued with any Click and Collect meal purchased.
If a customer fails to pick up their meals at the allotted time, no refund will be given or alternative dish provided.
Dishes may contain nuts, please make us aware of any allergens or special requirements at the point of ordering.
Payment in full will be taken at the point of placing your order.
Meal Tickets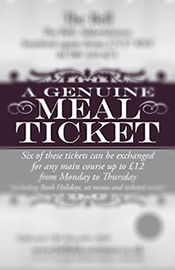 We like to keep our 'Genuine Meal Tickets' nice and simple, but incase there is any confusion, hopefully the following will answer any questions:
Available all day Monday to Thursday (excluding bank holidays)
Redeem six Meal Tickets to claim up to £12 off the price of your chosen main meal or light bite
Not redeemable against any other offers, ticketed events, or set menus
Tickets can be redeemed at our sister pubs
Tickets are not redeemable on the day of issue
No cash value
You receive a meal ticket for each main course or light bite purchased at full price. Please note, you will not receive a meal ticket for a dish paid for with meal tickets.
Tickets are not redeemable after their expiration date