Terms and Conditions
Unsubscribing from our mailing list and privacy
You may unsubscribe from our mailing lists at any time using the link in our emails. This will delete your details permanently from our list and prize draw selection. We will not pass your email address on to anyone and it will only be used by us while you are subscribed to the list.
By adding your details to our mailing list you will be placed into a monthly draw. A winner is chosen at random by our computer system for each pub.
Prize winners will receive an electronic, printable voucher, the value of which can be put towards any food and drink products sold in our pubs.
Winners will receive notification via the email address registered.
Winning vouchers expire 90 days after the prize draw date.
No cash alternative will be given. Change will not be given for any unspent voucher value.
We will use your contact information to keep you informed of news and events within our pubs only.
If you have entered via a paper form in our pubs we do our best to have your details entered into our system within 28 days. If you have waited longer please feel free to re-enter your details directly into our website.
Only one entry per person per pub
The prize draw isn't open to employees of a respective pub mailing list
We reserve the right to cancel or amend this promotion at any time
Entrants must be over 18
Your information has been collected and will be held by Brunning & Price Limited, Yew Tree Farm Buildings, Saighton, Chester, Cheshire, CH3 6EG. We will not pass your details on.
You can unsubscribe from our mailing list at any time by using the unique link in our emails to you.
If you have cause to complain, please contact the Information Commissioner's Office.
By unsubscribing you will permanently delete your details from our database, thus removing yourself from the prize draw.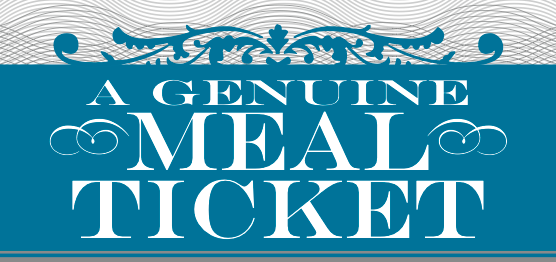 We like to keep our 'Genuine Meal Tickets' nice and simple, but incase there is any confusion, hopefully the following will answer any questions:
Available all day Monday to Thursday (excluding bank holidays)
Redeem six Meal Tickets to claim £12 off the price of your chosen main meal
Not redeemable against any other offers, ticketed events, or set menus
Tickets can be redeemed at our sister pubs
Tickets are not redeemable on the day of issue
No cash value
You receive a meal ticket for each main course or light bite purchased at full price. Please note, you will not receive a meal ticket for a dish paid for with meal tickets.
Tickets are not redeemable after their expiration date