MacMillan Coffee Morning
10:30am, Friday 24th September 2021
---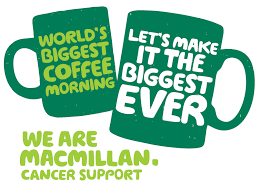 Join us from 10:30am on the 24th of September 2021 here at The Parrot and hosted by Di Cuthbert to help raise vital funds for people living with cancer. As you may remember this is our second event this year following on from a very well supported plant sale back in may raising over £700. So come along on the 24th and let's enjoy raising money together for this great cause.
'The World's Biggest Coffee Morning' is MacMillan's biggest fundraising event. People all over the UK host their own coffee mornings and together raise awarness and funds. In 2019 MacMillan raised £27.5m and we are aiming to help them surpass that this year!
To be enjoyed with the coffees Di has a keen group of cake bakers at the ready, if you also would like to contribute cake please get in contact, we don't think there can ever be too much cake!
See you all on the 24th.
Chris, Di and all the crew.