Menus
Use the 'Eat Out to Help Out' scheme here.
Get a 50% discount on food and non-alcoholic drinks, up to a maximum of £10 discount per diner.
Valid every Monday, Tuesday and Wednesday between the 3rd and 31st August.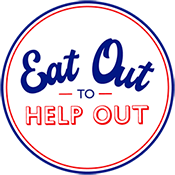 Each day, before midday we upload the day's menus, it's always nice to whet your appetite before you even get to us. We also add in more detail about each dish in case you need to check out the ingredients for allergen information.
Fixed Price
---
Bombay Sapphire, Hampshire, 40% Launched in '87, Bombay uses almond, lemon peel, liquorice, juniper, angelica and coriander to name but a few botanicals. £3.25
Hendricks, Scotland, 41.4% Quirky producer Hendricks make their pot-still distilled Gin using cucumber as one of the primary botanicals. This makes for a unique, tasty and incredibly refreshing Gin. £3.50
Twisted Nose, Hampshire, 40% From the picturesque city of Winchester in Hampshire. It is made in very small batches in traditional copper stills. The botanical selection includes juniper, grapefruit zest, cassia bark, fennel seed, orris, angelica, lavender and, most notably, locally-grown watercress. £3.75
Two Birds, England, 37.5% Well, this somewhat does what it says on the tin, doesn't it? Tasty Two Birds Gin, with the lip-smacking addition of strawberry and vanilla. Summer drinks ahoy! £3.80
Boe Violet Gin, Scotland, 41.5% A vibrant variation on the Boë Gin recipe, which has been infused with violets! Surely an excellent tipple for the summer months. £4.00
Bakewell Gin, England, 40% An aromatic craft Gin distilled in a small copper pot still at a humble family-run distillery in the peak district. Just six botanicals were infused in this gin in total, with the inevitable cherry and almond and classic notes of juniper supplemented by additions of cardamon, cubeb pepper and hibiscus. £4.35
Bluecoat American Dry, America, 47% Distilled in a traditional copper pot still and is named after the uniforms worn by the militia in the American Revolution. The botanical recipe is kept secret however the style is a classic dry Gin. £4.30
Chocolate Orange Gin, England, 46% That Boutique-y Gin Company combines the richness of chocolate, the refreshing qualities of oranges and the deliciousness of gin to form something terrific - Chocolate Orange Gin! £4.45
Christopher Wren, London, 45.3% A special edition from the City of London Distillery, created in collaboration with Tom Nichol, the retiring Tanqueray Master Distiller. The Gin uses juniper, coriander, angelica root, liquorice and sweet orange. £4.75
Ginger Ninja, England, 42% A ginger-forward gin from the folks at The Lickerish Tooth, made with many of the same botanicals as their Sheep's Eye Gin, though with a few slight differences and, well, much more spicy ginger coming through on the nose and palate. £3.90
House of Elrick, Scotland, 42% Featuring a selection of botanicals including juniper, coriander, citrus, and rose petals. Not only that, it's made with fresh water drawn from Loch Ness! £4.30
JJ Whitley Elderflower, England, 38.6% This revolves around the classic fragrance of the elderflower, along with a selection of rural British flavours and a helping of cinnamon. £3.75
Chamomile and Cornflower, Scotland, 39% A fabulously floral gin from The Old Curiosity Distillery, set in the grounds of the mysterious Secret Herb Garden on the outskirts of Edinburgh! £4.70
Peaky Bliners Spiced, England, 40% A full-bodied gin named after the Peaky Blinders, a street gang from the late 19th/early 20th Century. Fresh ginger and black pepper, with subtle touch of cassia in the background. £4.10
Puerto De Indias Strawberry, Spain, 37.5% Combining notes of juniper and strawberry, this is a vibrantly fruit-forward Spanish gin - evidently made by accident after trying to create a strawberry liqueur! £4.00
Salcombe Gin, Devon, 44% Citrus notes from English coriander seeds. Cubeb berries from Java provide fruity peppery heat balanced with warming spice from cinnamon bark. £4.25
Skully Smooth Wasabi, Netherlands, 41.8% Wasabi root, sweet orange, ginger and mint combine with Skully London Dry Gin. Powerful aroma and silky-smooth taste. £3.95
Strawberry & Balsamico, England, 40.1% It's not a flavour combination that jumps to mind right away, but strawberries and balsamic vinegar is an absolutely astounding pairing that we don't think gets nearly enough love. £3.95
The Wrecking Coast Cornish Clotted Cream Gin, Tintagel, 44% The Wrecking Coast distillery in Tintagel macerate 12 botanicals in grain spirit for a fortnight before running through a computer controlled iStill. The Cornish clotted cream is cold distilled in a vacuum still before the two spirits are blended together £4.15
Twisting Spirits Earl Grey Gin, Oxfordshire, 41.5% From the Twisting Spirits micro-distillery comes a tasty Gin boasting notes of refreshing Earl Grey tea! £4.30
X-Gin, Belgium, 44% X-Gin is an intriguingly flavoured Gin, made with a whole host of botanicals, many of which you might find in some indulgent chocolates. £5.25
Kokoro, England, 42% Kokoro Gin is a London dry Gin made with a selection of botanicals that includes fresh Sansho berries, which are popular in Japanese cuisine. £3.70
3 Pugs London Dry, England, 42% Pugs. They're wonderful. Gin is also wonderful. Husband and wife duo Christine and Stephen Ditchfield have gone and united those two wonderful things together to make their very own 3 Pugs Gin. £4.90
Ragnarok, 44% This copper pot still gin from Sweden uses a base spirit that's made from local Swedish winter barley. The folk at Tevsjö then use 8 botanicals including juniper, lingonberries, caraway and dill. £3.80
Opivm dry Gin, Portugal, 40% Opivm Dry Gin comes to us via Portugal, and is made using a combination of botanicals including hibiscus, cardamom, wormwood, coriander and juniper, among others. £3.55
Pink 47 Gin, England, 47% Pink 47 is a fine London Dry Gin made from Italian juniper berries. It includes some exotic botanicals too with two different types of angelica and two different corianders. £3.60
Hampshire Fine Dry Gin, England, 40% The folks behind Twisted Nose Gin have created another selection of gins. This expression features a selection of six botanicals, including Macedonian juniper and lemon and lime. £3.90
East London Liquor Company London Dry Gin, 40% This London Dry Gin is made with 100% British wheat spirits and infused with a bright selection of botanicals, including fresh lemon and grapefruit peels, cardamom, angelica root and Macedonian juniper berries. £3.95
Feckin Irish Gin, Ireland, 40% This FECKiN Gin is made with just five feckin' botanicals; angelica root, cassia bark, coriander, juniper and lemons. £4.60
World Gin Day, England, 47.7% Our 7 continents Gin, made in collaboration with World Gin Day organiser Emma Stokes aka Gin Monkey, has been made using a single ingredient from each continent £4.00