Local Attractions
There's plenty to do in the area, you could make a day of it and visit a local attraction before or after you come to see us.
---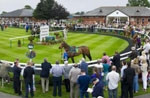 Bangor-on-Dee Racecourse
Bangor Is-Y-Coed, Wrexham LL13 0DA.
Tel: 01244 304 610 | www.bangorondeeraces.co.uk
For race fixtures please see the race course's website.
Bangor on Dee is a left handed jumps racecourse set in glorious countryside and overlooked by the Welsh hills.
From the Cross Foxes - about 3 miles or 5 or 10 minutes to/from Bangor-on-Dee Racecourse.
---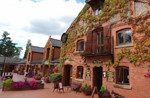 The Plassey
The Plassey Leisure Park, Eyton, Wrexham, LL13 0SP.
Tel: 01978 780 277 | www.plassey.com
Open 7 days a week from 10.30am to 5pm.
Craft and leisure park with a 9 hole golf course
From the Cross Foxes - about 1.2 miles to/from The Plassey.
---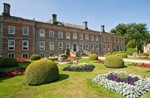 Erddig Hall
Erddig, Wrexham, LL13 0YT.
Tel: 01978 355 314 | [email protected]
Open Please see their website for details.
National trust gardens and home set in acres of country walks.
From the Cross Foxes - about 5 miles to/from Erddig Hall.
---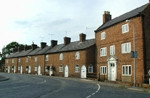 Overton Village
Overton Village and St Mary the Virgin Church.
Historic Village and the yew tree's in the church yeard were mentioned in the doomsday book.
From the Cross Foxes - about 1 mile to/from Overton Village.
---
Information
Opening times
| Day | Open | Food served |
| --- | --- | --- |
| Monday | 12noon - 11pm | 12noon - 9pm |
| Tuesday | 12noon - 11pm | 12noon - 9pm |
| Wednesday | 12noon - 11pm | 12noon - 9pm |
| Thursday | 12noon - 11pm | 12noon - 9pm |
| Friday | 12noon - 11pm | 12noon - 9:30pm |
| Saturday | 12noon - 11pm | 12noon - 9:30pm |
| Sunday | 12noon - 10:30pm | 12noon - 9pm |
Wheelchair access
There is a small step up into the pub, but we have a small ramp to enable wheelchairs to gain access. Please let us know if you need assistance and we'll be happy to help. We have a disabled loo.
Children & Minors
The Cross Foxes is essentially an adult's environment, although children of the well-behaved variety are welcome. We have high chairs and baby-changing facilities, but the pub is probably not very suitable for babies or toddlers in the evenings.
Prams and pushchairs
Due to the constricted nature of many of our rooms, could we ask you not to bring prams or pushchairs into the pub. We have experienced considerable congestion in the past which causes problems on a number of levels. Sorry if this causes any inconvenience.
Dogs
Dogs of the well behaved and on-the leash variety are welcome away from dining areas.
A few hints on how things work, service wise:
First off, life revolves around the bar, so that's where to head for drinks, menus and to find out where you're sitting if you've booked.
If a table isn't reserved you're welcome to sit at it and have a bite to eat or drink. If you can't find a table, ask and we'll try to find you one.
Bookings
We do take bookings, but we try to make sure that there is room for customers who are not able to book in advance, so if you have not made a reservation, it's not the end of the world. If there are no tables free we run a waiting list from behind the bar.
Please make bookings by calling or using our online bookings calendar link at the top of the page. Unfortunately we are not able to take bookings via email or facebook.
We don't reserve any of our outside tables so if you enjoy a little alfresco dining these are on a first come first served basis.
Sadly due to our operation we are not able to cater for very large parties or groups.
Food Ordering:
Inside - someone will pop over and take your order. Outside - please find a table, note its number and then order at the bar when you're ready.
The Gardens
Could you please keep tops on and shoes on at all times. This applies to blokes as well.
Taxis
Jim's Taxis (from the village) - 01978 710662 Prestige Taxis, Wrexham - 01978 291999 Apollo Taxis, Wrexham - 01978 262600
Accommodation
Willington Lodge, Horsemans Green, Whitchurch, Shropshire, SY13 3BZ.
Run by Pamela and Richard Morris, Willington Lodge is a 5 star boutique B&B
01948 830275 / www.willingtonlodge.co.uk
---
Turtle Dove Hideaway Whitchurch, Shropshire, United Kingdom
Tel: 01637 881183 Turtle Dove Website
---
Wood Farm House Boutique Rooms
Wood Farm House Bed & Breakfast is an amazing oak framed house built around 500 years ago, situated in stunning countryside on the borders of Cheshire, Shropshire and Wales.
www.woodfarmhouseboutiquerooms.co.uk
The Rhewl Farmhouse Knolton, Overton on Dee Near Wrexham, LL13 OLF Tel: 01978 71027
Contact Jane Roberts Email: [email protected]
---
Dearnford Hall - Charles & Jane Bebbington Dearnford Hall Whitchurch Shropshire SY13 3JJ
Tel (01948) 662319 Fax (01948) 666670
---
Erbistock Mill for people who are looking for a week's stay with good food and nice walks. - Erbistock Mill website
---
Murefield Bed and Breakfast
A local AA 4-star bed and breakfast which we use ourselves, is the Murefield Bed and Breakfast. Their website is here: www.murefield.com
Meal Tickets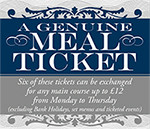 Click here for all you need to know about meal tickets.