Local Attractions
There's plenty to do in the area, you could make a day of it and visit a local attraction before or after you come to see us.
Middle England Alpaca Farm
Middle England Farm is a family run farm based in a picturesque spot near Henley in Arden, Warwickshire, with easy access to the M42, M6, Coventry, Birmingham and Stratford upon Avon. They specialise in Alpaca Walking Experiences for all. The farm is also home to goats, llamas, sheep, emus, horses, ponies, donkeys, chickens and ducks! When you come on an Alpaca Walking Experience you get to meet them all in a peaceful, unhurried way! 
From the Crabmill - 4.1miles to/from Middle England Alpaca Farm .
---
Umberslade Farm Park
At Umberslade Farm Park children of all ages can enjoy a number of farm-based activities. Hold, feed and stroke a variety of animals at our working family farm in Warwickshire. A fantastic family day out for all.
From the Crabmill - 7miles to/from Umberslade Farm Park .
---
Warwick Castle
Imagine a totally electrifying day out at Britain's ultimate castle. Where you can immerse yourself in a thousand years of jaw-dropping history – come rain or shine. Where ancient myths and spell-binding tales set your imagination alight, and your hair on end. Where princesses are pampered and maidens are wooed, as winners become true heroes and losers are confined to dark, dank dungeons to be forgotten for eternity. It could only be Warwick Castle.
From the Crabmill - 8.9miles to/from Warwick Castle .
---
Four Ashes Golf Centre
Four Ashes Golf Centre is a place for all of the family. They have an 18 hole Adventure Golf, 28 bay floodlight Driving Range, Cafe with Licensed bar and Function Room, Personal Training Studio, Golf Superstore, Club Repair service as well as a Golf Academy 3 friendly PGA Professional teachers for your golf.
From the Crabmill - 8.2miles to/from Four Ashes Golf Centre .
---
Sims Vintage Antique Centre
Sims Vintage Antiques Centre is full of a fascinating array of Antiques, Collectables, Memorabilia, Curios & interiors. They offer a wide range of stock from over 50 quality dealers. They pride themselves on offering a friendly and professional service to our dealers and customers alike. 
From the Crabmill - 0.5miles to/from Sims Vintage Antique Centre .
---
Shakespeare's Birth Place
From the Crabmill - 7.5miles to/from Shakespeare's Birth Place .
---
Jephson Gardens
Jephson Gardens is a beautiful formal Victorian park in the centre of Leamington Spa. It's the perfect place for a relaxing stroll or family picnic. Lots of colourful flowerbeds and interesting sculptures make for a great day out
From the Crabmill - 10miles to/from Jephson Gardens .
---
Midland Air Museum
An amazing collection of aircraft, all managed by people who clearly know what they are talking about. 
From the Crabmill - 17miles to/from Midland Air Museum .
---
British Motor Museum
This is the world's largest collection of Historic British cars. There are over 300 classic cars for you to explore from both the British Motor Industry Heritage Trust and the Jaguar Heritage Trust. They offer free tours and interactive family activities- plenty to keep everyone entertained.
From the Crabmill - 15miles to/from British Motor Museum .
---
Stratford Butterfly Farm
Come rain or shine enjoy the unique pleasure of discovering hundreds of the world's most beautiful butterflies flying in an exotic environment of tropical blossom with splashing waterfalls and fish filled pools. Situated in the historic market town of Stratford-upon-Avon.
From the Crabmill - 9.9miles to/from Stratford Butterfly Farm .
---
Packwood House
Packwood House, with its showcase gardens, is a splendid Tudor House which has gone full circle from being thoroughly modernized over the centuries to being restored to its Tudor grandeur by its 20th century owners. Although the house is a real delight, the 102-acre gardens are even more breath-taking.
From the Crabmill - 5.1miles to/from Packwood House .
---
Anne Hathaway's Cottage
This very special English cottage is set in a beautiful garden, where you will enjoy a relaxing stroll amid the old fashioned perfumed flowers and herbs evocative of old England. Next to the House is the orchard with a picnic area. If the weather and your schedule permit, why not enjoy the idyllic countryside a little longer, by taking a walk through the Shakespeare tree garden, or relax by the brook near the Jubilee Walk.
From the Crabmill - 7.9miles to/from Anne Hathaway's Cottage .
---
Shakespeare Gin Distillery
Ever wondered how gin is made? Join the distillery for a fun and informative tour around a working distillery in Stratford upon Avon. You will discover how gin is made, learn about its history, and experience the many different ingredients that are used. Followed by a tutored tasting of at least 3 Shakespeare Distillery spirits, finishing with a Gin & Tonic.
From the Crabmill - 8.2miles to/from Shakespeare Gin Distillery .
---
Royal Shakespeare Company
One of the world's best-known theatre ensembles, the Royal Shakespeare Company performs the works of Shakespeare, other renaissance dramatists and contemporary writers all year round in its home in Stratford-upon-Avon.
From the Crabmill - 9.7miles to/from Royal Shakespeare Company .
Opening times
| Day | Open | Daily menu |
| --- | --- | --- |
| Monday | 11:30am - 11pm | 12noon - 9pm |
| Tuesday | 11:30am - 11pm | 12noon - 9pm |
| Wednesday | 11:30am - 11pm | 12noon - 9pm |
| Thursday | 11:30am - 11pm | 12noon - 9pm |
| Friday | 11:30am - 11pm | 12noon - 9:30pm |
| Saturday | 11:30am - 11pm | 12noon - 9:30pm |
| Sunday | 11:30am - 10:30pm | 12noon - 9pm |
Children and minors
Whilst primarily an adult's environment, children are welcome in areas away from the bar, although the pub is not very suitable for babies and toddlers in the evenings. We have changing facilities and some high chairs available.
Disabled access
While we do have step free access to part of the bar area, unfortunately we do not have any disabled toilets. We are sorry for any inconvenience caused.
Dogs
Dogs of the well behaved and 'on-the leash' variety are welcome in the bar area and garden.
Bookings
We do take bookings, but we try to make sure that there is room for customers who are not able to book in advance, so if you have not made a reservation, it's not the end of the world. If there are no tables free we run a waiting list from behind the bar.
Please make bookings by calling or using our online bookings calendar link at the top of the page. Unfortunately we are not able to take bookings via email or facebook.
We don't reserve any of our outside tables so if you enjoy a little alfresco dining these are on a first come first served basis.
Service
First off, life revolves around the bar, so that's where to head for drinks, menus and to find out where you're sitting if you've booked.
If a table isn't reserved you're welcome to sit at it and have a bite to eat or drink. If you can't find a table, ask and we'll try to find one for you.
Food ordering:
Inside - someone will pop over and take your order. Outside - please find a table, note its number and then order at the bar when you're ready.
The gardens and terrace
If you are eating outside on our lawns or terrace, it is a great help if you could make a note of your table number before ordering at the bar.
By the way, could you please keep tops on and shoes on at all times. This applies to the gents as well.
Taxis
Crown Cars - 0121 711 1111
A & G Taxis - 07973 267 820
PPH Taxis - 01564 793939
Henley Cars Ltd - 01564 793 338
Accommodation
We are fortunate to have our sister pub, Arrow Mill, just down the road in Arrow (near Alcester) who have 9 beautiful rooms if you are looking for somewhere to stay the night. You can book a room through their website, or feel free to give them a call.
Arrow Mill
Arrow Mill, Arrow, Near Alcester, Warwickshire, B49 5NL
01789 333 790
For accommodation a little closer, please see below:
Henley Hotel - Tanworth Ln, Henley-in-Arden B95 5RA. 01564 794551
Bridge House Hotel - 289 High St, Henley-in-Arden B95 5DH. 01564 794469
Ardencote - The Cumsey, Lye Green Rd, Warwick CV35 8LT. 01926 843111
Austons Down - Saddlebow Ln, Claverdon, Warwick CV35 8PQ. 01926 842068
Meal Tickets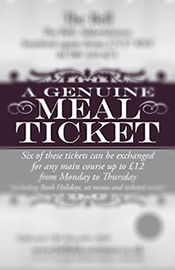 ---
As a little reminder, a Meal Ticket is received for each main course or light bite purchased at full price. Six tickets can then be exchanged for any main course up to £12 from Monday to Thursday (excluding Bank Holidays, set menus, ticketed events and click and collect). For full terms and conditions, please click here.
---