It's a great time to join us...
We've got lots going on and plenty of opportunities for hospitality professionals.
So if you're looking for a role and new place to call home, we'd love to hear from you.
Our doors are open!
With the easing of restrictions, it's great that you can now head to the pub just like the olden days.
It's still very important to us that we strike the right balance between loosening up the restrictions, whilst also being mindful of our customers' and crews' continued safety and well-being. With that in mind, we wanted to reassure you that we will, of course, continue with our high standards of cleaning in all we do. We will continue to sanitise tables between use and whilst there are no longer any restrictions, we are still mindful of the spacing of our tables, to ensure you feel comfortable. We will continue to make sure the pubs are nicely ventilated and some of our crew and customers alike will choose to carry on wearing a face coverings.
And, just to let you know, we'll be happily redeeming meal tickets, (collect 6 and receive a main course up to £12). Don't worry if you have tickets with a November 2020 expiry on, we'll be glad to extend these until November 2021, just dust them off and bring them along.
We are so looking forward to seeing you soon.
We are a group of pub restaurants founded in the North West of England and North Wales, however, through popular demand and with the assistance of an A to Z we have now ventured further afield and have a substantial branch of the family in the South.
Each pub has its own style and flavour, though you'll find good cask beers, freshly cooked food, decent and affordable wine and a good shelf of malt whiskies throughout. We like to think we run informal places for people who like to meet, eat, drink and talk in a relaxed friendly atmosphere.
More than one pub was found.
Please choose from the list below.
Click on the map above or enter a town or postcode below to find your nearest pubs. Or if you know where you would like to see, just pop in the pub name: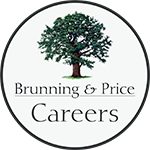 Brunning and Price Careers Facebook page
You'll find our latest key vacancies and get a little insight into what it's like to work with us...
Click here for more details
Latest from Instagram
Today's plan. (Did you know each of our pubs has a mapped circular walk, starting and finishing at the pub? - take a look at your locals website) #happysunday #letsgetreadytoramble #sundaylunch #brunningandprice
News from Facebook
Posted yesterday at 9:17am
Nice day for it! (Did you know that all of our pubs have a circular walk starting at the pub? - visit your favourites website for the route or pop into the pub to pick up a map).
1 person likes this
---